Happy New Year!
December's letter will spill over a bit into January. Kimberly, Lance, Blake, Garrett and Paige visited us over the holidays, and just returned to California. I couldn't take one minute away from our family time to spend on the computer! But now we're back to our regular routine, if there is such a thing.
The beginning of December started with us trying to fix our radar problems in Antigua. We needed to be in Sint Maarten (St. Martin) to meet our friends Larry and Mary on s/v Berkeley East by mid-December, so we decided to go to Sint Maarten and get the radar fixed there. We left at 4 a.m. for the 12 hour sail. We enjoyed decent wind and got to sail the majority of the trip. We even caught a fish! A pretty decent-size dorado. It fought hard and we were exhausted by the time it was over. "Over" is the word I've chosen, after debating whether to use words like kill, butcher, slice, bloodbath, and other words which more accurately express my feelings about the experience. After having been through this a few times now, I realize that the only thing I like about fishing is eating it.
We arrived at Simpson Bay, St. Maarten, in plenty of time to make the 5:30 p.m. bridge opening into the lagoon. With high winds, a large swell, and squalls predicted, we wanted the extra safety of being in a protected lagoon. Unfortunately the bottom of the lagoon is grass and mud. The holding is not good. We awoke at 1:30 a.m. by loud knocking on our hull. Some folks in a dinghy were returning to their boat after a night on the town, and thought we would like to know that our anchor was dragging. We were dangerously close to another boat and would have bumped into it for sure. We were so lucky that they came by at that time and took the time to wake us up! We raised our anchor, which was covered in mud, and reset it just as the wind started howling. It was very stressful motoring through the crowded anchorage in the middle of the night. Many of the boats do not use their anchor lights and are hard to see until you are practically on top of them. We reset the anchor in a new location, but couldn't sleep after that. And the wind continued to blow at 20 to 30+ knots for another week from the effects of tropical storm Olga.
The radar technician was too busy to come out to our boat. He said he could replace the circuit board if we brought the dome to his shop. So I hoisted Mike up the mast during a momentary lull in the wind. Daryll from s/v Temptation came over and helped Mike get the dome lowered. We used a large sail bag and tied it to a halyard. Then we tied a second line to control the swinging. After delivering it to the technician, he determined that a new board would need to be shipped from the States. So, $700 and a couple of weeks later, we had a functioning radar again.
We managed to squeeze in some fun while we waited for the kids to arrive. Shrimpy's Bar is the local cruisers' hangout with free wifi, a good dinghy dock, laundry service, grocery store, and cheap food. Mike, the owner, conducts the VHF Cruisers Net each morning to give the weather report, welcome new cruisers and make announcements. He also has a flea market every Sunday morning with free beer. Another popular hangout is the Yacht Club at happy hour during the last bridge opening of the day. The Yacht Club balcony is the perfect spot to watch boats enter and exit the lagoon. It's fun to watch the enormous mega-yachts squeeze through the bridge with only inches to spare. The crowd at the Yacht Club cheering and waving in response to the horn blasts from the yachts. Mike's favorite place to eat was the Lady C Bar and Grill, an old floating schooner-turned-restaurant, with their all-you-can-eat baby back ribs. That is, until he discovered the BBQ ribs at Lee's Roadhouse Grill. We also pigged out on half-price appetizers at Peg Leg Pub with Ralph and Mary (s/v Merlin). Now that Mike's on Lipitor, he thinks he can eat whatever he wants.
We were happy to see Larry and Mary (s/v Berkeley East) arrive. We enjoy hanging out with them and had a lot of fun eating, drinking, beachcombing, and touring with them. We all joined the Christmas carol dinghy raft-up. There were 18 dinghies and everyone brought their own drinks and an appetizer to share. Then we rafted together and floated around the lagoon singing Christmas carols. Mike enticed Cici's dog, Schooner, into our dinghy and the two of them howled along in perfect harmony. Larry and Mary entertained us on Berkeley East with a fabulous lobster dinner on Christmas Eve, and we cooked a traditional turkey dinner on Aquila on Christmas Day.
The kids arrived two days later (on Mike's 60th birthday). We took them to the yacht club for the bridge opening, then out for pizza, then back to the boat for cake and ice cream. On the dinghy ride back to the boat that evening, plowing along with 7 of us in our little dinghy, the sky opened up and completely drenched us. The wind and rain was unusually cold. We were huddled together, screaming, laughing, freezing and completely soaked for the 10 minute ride. And they came here to escape the cold weather! Welcome to St. Martin!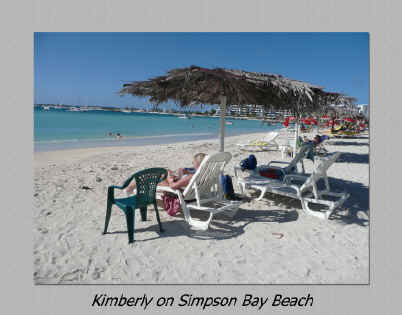 We spent the next day, which was nice and sunny, on the beach at Simpson Bay. We then sailed to the French island of St. Bart's. It was only a 3-hour sail, but the seas were quite large (8 to 12 feet) with 20+ knots of wind. It was not the ideal conditions for novice sailors. Everyone was glad when we finally got to the beautiful undeveloped anchorage in Colombier, St. Bart's. We snorkeled, hiked, swam, dinghied, and played on the beach. A friendly turtle swam around the boat and watched us. On New Year's Eve, we motored Aquila around to Gustavia, St. Bart's. Gustavia is a very popular little city catering to the rich and famous. It is a favorite location for super mega-yachts on New Years Eve and we wanted to experience it. There were hundreds of boats! The biggest yachts I've ever seen. Some even had a helicopter on deck. At midnight, all the horns blasted and a huge fireworks display lit up the sky. For many, the parties lasted all night. (not us .. we went right to sleep after the fireworks). In the morning we motored back to Colombier for another day of snorkeling and playing on the beach.
We hoped for better conditions on our return sail to St. Maarten, but the seas were still 10 feet. It was more of a following sea, which is better, but still not ideal. I think the kids actually enjoyed it, but I know Kimberly was glad when we reached Phillipsburg. Phillipsburg is the main town in St. Martin where the cruise ships stop. It is a shoppers paradise and everything is duty free. Kimberly and I shopped all day, while Mike and Lance took the kids to the beach. They got a package deal renting 2 lounge chairs, an umbrella, and a bucket of beer on ice for $20. By the time Kimberly and I returned, they had managed to polish off a second bucket, as well. Life is good! We made a late afternoon sail back to Simpson Bay in time for the 5:30 p.m. bridge opening.
Since we weren't planning to sail up to Marigot Bay, we took the dinghy across to the French side of the lagoon (we're anchored on the Dutch side). Then we walked to Marigot. Mike took the kids for a hike up the hill to the ruins of Fort Lewis, while Kimberly, Lance and I shopped at the waterfront marketplace. We got back to Aquila in time for lunch, then went to play on the beach some more. The next day, we hopped on a local bus to Maho beach. This stretch of beach is at the end of the airport runway. Jets revving their engines for take-off create such force as to blast people off the sand and into the water. Daring (or foolish) individuals line up on the beach wall hoping to get blown. It is quite amazing to watch the planes land. They come in so incredibly low over the beach. (see the photo in this month's album) Then, it was back to Simpson Bay Beach which was the best location for playing on the beach, cheap drinks, free beach chairs, and excellent food.
We went to Ric's Place for the All American breakfast on their final morning. Blake amazed me by eating eggs, bacon, sausage, toast, potatoes, pancakes, and 2 glasses of milk. He's not even 10 years old yet! What's going to happen when he's a teenager?! After getting all packed and everything dinghied to shore, we hailed a taxi and went to the airport to see them off. We didn't find out until the next day that their flight out was delayed, which caused them to miss their connection in Atlanta. They spent 24 hours in Atlanta before getting a flight to Los Angeles. Lance said the kids enjoyed it, though. The airline put them up in a hotel, so they got to sleep in real beds and eat at the Waffle House.
So now we're doing boat projects and waiting for a weather window to sail to St. Croix, in the U.S. Virgin Islands. Mike had to replace the seals in our water maker, which was an all day job. So now we're outside of the lagoon and making water again. I cleaned the sand out of the cockpit, and washed the interior teak with vinegar and water. We dropped off 5 loads of laundry at Shrimpy's. Mike was washing the hull, but got interrupted when the generator died. So now he's trying to solve that problem. It's always something.
Looks like Saturday night is the target for our departure. Right now there isn't any wind at all, so we'd have to motor the whole way. By Saturday, we should have about 15 knots, so we'll wait for the wind.
Fair Winds To All In The New Year! (click here for this month's Photo Album)