February and March were really nice months. We were able to spend quality time with long-time friends as well as getting to know some new friends.

After leaving St. Martin at the beginning of February, we did an overnight sail to St John USVI. Sailed the entire 100 mile distance, no motoring. It was great! We spent several days exploring the anchorages around the island. Most of the island is National Park, and we were required to use their moorings, rather than drop an anchor. As senior citizens, we got the discount of $7.50 per night. I guess there are some advantages to being old!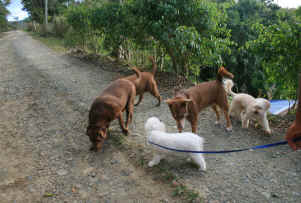 We then sailed over to Road Town, Tortola in the British Virgin Islands, and put Aquila in a marina for a week so we could stay with Frank and Patti in their fabulous hilltop home. What a wonderful, relaxing, fun week.
Lucy got acquainted with Moose and Coco and got to join the nightly neighborhood dog walks. We feel like family with Frank and Patti and plan to pass this way again next November (right after hurricane season ends!). Check out our pictures in this month's photo album of their gorgeous home.
Our next stop was St. Thomas in the U.S. Virgin Islands. We spent a few days poking around Charlotte Amalie and were on our way out when we got a call on the VHF radio from our friends Spencer and Nana on s/v Adverse Conditions. We had been in the same harbor the whole time and missed each other somehow. So we turned around and went back to Charlotte Amalie for a few more days and spent some time with our friends. They showed us how to catch the 'local' bus for $2 rather than the 'tourist' bus for $10-15. We bought all sorts of items at the Super K-Mart and Home Depot. What fun to be shopping in stores that carry all our familiar products.
We needed to move on and get to Puerto Rico to pick up our new 250' of anchor chain and a replacement pump for our toilet. We arrived in San Juan, Puerto Rico on Feb. 25. We finally got to meet Carlos Gonzalez, an ATF agent in San Juan, whom we have been exchanging emails with for a long time. Carlos was enormously helpful to us in getting our anchor chain delivered and installed, as well as taking us all over town to buy all the provisions and items on my long list. We renewed our membership at CostCo and spent a gazillion dollars on provisions. We shopped at Target, West Marine, K-Mart, Pet Smart, and even the Coast Guard Commissary. We were giddy with excitement at finding so many long forgotten goodies.
Installing the new anchor chain was a challenge. The old chain had a basketball-sized lump of rusted chain at the bottom of our anchor locker. Mike had to use a hacksaw to cut it out (after breaking his dremel tool and then unsuccessfully trying the cold chisel). We hired a guy to clean it all up before installing the beautiful new chain. You wouldn't think we could be so thrilled about anchor chain, but we just love our clean new chain that doesn't leave rust flakes all over the bow!
Cooking, as it turns out, is Carlos' passion (as well as sailing), so we enjoyed some incredible meals with him and his girlfriend Olga. We all hit it off so well, that we invited Carlos to sail with us to the Bahamas. He was eager for the off-shore experience, and quickly arranged for a week's vacation. Then he prepared some wonderful home cooked meals for us to eat underway, and arrived with so many delicious provisions we ate like royalty the whole time. Yes!
For most of the trip we had fairly light winds (8-15 knots) with a pretty good sized swell on our stern quarter. But the wind was enough to sail by, so we were all pretty happy about that. We planned to make landfall at Abraham's Bay on Mayaguana which is the first island in the Bahamas with a port of entry. Entering the bay requires visual reef navigation to avoid hitting the large coral heads or going aground on the reef. For our final 24 hours, the wind really picked up and we were sailing so fast that we would arrive in the middle of the night! So we had to dramatically slow down in order to arrive with midday sun which is necessary for reef navigation. Carlos was finally getting the good wind and fast sailing that he wanted and we couldn't let him enjoy it. We had to completely furl the headsail and sail with a reefed main to slow down to 4.5 knots all night.
The bay at Mayaguana was very shallow and it was necessary for us to anchor far from the small town settlement. Mike and Carlos made the 3 mile dinghy ride to shore in windy, extremely choppy conditions to get us checked in. The dinghy ride took almost an hour! And then the water was so shallow, they had to get out and drag the dinghy in. Carlos did some serious dancing when he stepped in a bed of thorns on the edge of the shore. Good Times! We had calm weather after that and did some beachcombing. Even Lucy got to enjoy a swim at the beach. She was in all her glory running free through the water on the shoreline and burrowing into the sand. Of course, that meant a 2-hour grooming session afterward. It was worth it. She was such fun to watch. The guys were snorkeling around the boat when suddenly Carlos swam back to the boat as fast as he could and came up hollering "Shark!!" He had a good laugh (after his heartbeat returned to normal) thinking how he did everything wrong. He said he totally panicked and started kicking as fast as he could, rather than remaining calm. That was the end of the snorkeling!
Carlos flew out of Mayaguana on March 11. We left a few days later and made a fast overnight sail to Cat Island. The wind was 15 knots on the beam and we had a current helping us. We made almost 8 knots of speed for the entire 190 miles.
Cat Island is very pretty, unlike Mayaguana which was not so pretty. One day we packed a picnic lunch and hiked to the top of Comer Hill to see the Hermitage built by Father Jerome almost a century ago. It is the highest point in the Bahamas at 204 feet with a 360 degree view. At the Fernandez Bay anchorage, we met some other cruisers for happy hour and a steak and lobster dinner at the resort. We had a great time swapping stories with Mary & Dave on s/v Mon Amie, Ed & Karin on s/v Passages, and Maurice & Pollie on s/v Serenity. The full moon reflecting on the boats at anchor in the still water and perfect sand of this pristine small bay was enchanting.
And finally, we had to make a full day's sail across the Exuma Sound to the Exuma Cays (pronounced Keys). We left Cat Island before sunrise and got across to Staniel Cay too early. We wanted to arrive at high tide, but we misjudged. The tide was low and after making a very scary entrance through a narrow cut that looked like river rapids, we were swept along a skinny channel with a strong current pushing us at 7.5 knots of speed with only a foot or two of depth under us! We finally got through the section of strong current and tried to slowly motor to the anchorage. But we hit bottom and just stopped. It is such an awful feeling to watch the depth gauge register 1.0, .7, .4, .1, 0.0!! It took an hour for the tide to rise enough to float us off the bottom so we could continue to the anchorage. The full moon creates larger tide swings, so on a normal day we might have made it here even at low tide. But not with a full moon. We'll be more careful in our planning on our next move. The Bahamas are so shallow! We must move at high tides, but we also have to make sure the sun is high so we can visually navigate around any coral heads. Moving around here requires a lot more careful planning than other places we have been.
So, now we are getting ready for our kids' and grandkids' visits in April. I (Linda) will fly home next week to pick up Kailyn (6) and Brady (2), who will spend a week on the boat with us (Sean and Keni can't make it this year). Linda will fly back to California with the kids, spend a week there, and return to the Bahamas with Kimberly, Lance, Blake (13), Garrett (10) and Paige (7). They will spend 10 days cruising the Exumas with us. A fun, fun month to look forward to!!
Below are pictures of our kids and grandkids taken while talking on Skype. It's so much fun to see them!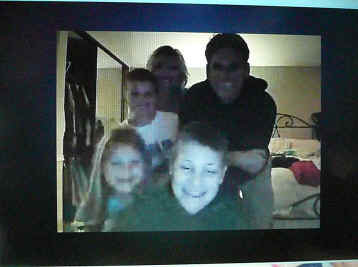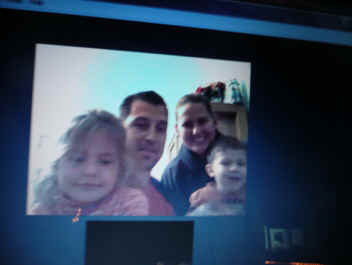 Click here for the Photo Album
Click here for next Letter Home