Good grief, it rains a lot down here! And the rain comes down in buckets! Several times a day, we go through our ritual of closing all the hatches and portholes when the rain starts. Then, as soon as the rain stops, we open them up again, catching with a rag the water that has accumulated outside each porthole. It gets too hot and steamy if we don't keep the hatches open as much as possible. Also, we need to keep our mosquito netting draped around the bimini because Linda's getting eaten alive. Unfortunately, the netting reduces the air flow when we are lucky enough to have a breeze. We have just resigned ourselves to being sweaty all the time. We have 10 hella fans installed throughout Aquila which we run constantly to help the air move. We are seriously thinking about installing air conditioning when we get to Florida this winter, especially since we plan to spend a couple of years in the Caribbean. We're not complaining, just stating a fact. Well .... maybe we're complaining a little bit.
At the beginning of this month, we were in Quepos, Costa Rica. It was the rolliest anchorage we've ever been to. It's a wide open bay, and the ocean swells kept us pitching and rolling all night. It was as bad as being underway in a storm. The highlight of this stopover was our tour of Manuel Antonio National Park. We were glad we hired a guide because he pointed out things we wouldn't have seen on our own. In addition to the monkeys, sloths, iguanas, coatis, and raccoons, he showed us bats, preying mantis, and other fascinating insects through his powerful telescope. Later in the afternoon, we sat by the ocean enjoying a delicious meal and a pitcher of fruity sangria at a popular outdoor restaurant. The little town of Quepos is very quaint and it was fun to browse through the shops. There were many tourists around, however we were the only sailboat in the bay.
We left Quepos early the next morning and sailed 10 hours to Bahia Drake where we anchored for the night to get some sleep. We left early the next morning and continued another 11 hours to Golfito, our final port in Costa Rica. We stayed at Banana Bay Marina for 2 nights, and spent half of a day going to customs, immigration, the bank, and the port captain to do all the paperwork necessary for leaving the country. It's a good thing we hired a taxi driver who knew all the places we had to go. We never would have found all those offices on our own. The marina would have done it all for us for $200, but the taxi only cost $20 and what else do we have to do with our time anyway?
A frightening gale blew through Golfito while we were at the Banana Bay Marina. It tore part of the roof off of the yacht club building next to us. The wind was blowing so hard that our dock started to break away from the main dock from the weight of our boat pushing against it. They had to quickly run a line from Aquila to a cement piling on the other side to hold us off, all the while the rain was coming down in sheets going sideways due to the wind. Linda was nervous because we would have smashed into another boat if our dock had broken away. We have no desire to test our insurance coverage. By the time we were secured which took about 30 minutes, the storm was pretty much over. Whew.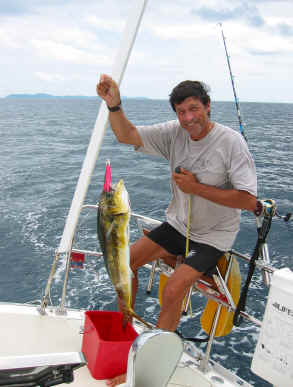 On July 5, we left Costa Rica for Panama, a trip of about 320 nautical miles. After leaving Costa Rica, the most amazing thing happened. Mike started catching fish! Each one got a little bigger than the one before. We reviewed our fish chart and determined that we caught yellow fin tuna and mahi mahi. We won't starve after all! After the first couple of fish, we organized a procedure to keep the blood slinging to a minimum. That first one was a mess! We weren't prepared. Mike reeled it in onto the deck and it was fighting hard. Flipping around like crazy. Flinging blood everywhere. Mike hollered to get the alcohol, so we poured vodka in its mouth and it stopped fighting. Then we got the cutting board and knife. Mike filleted it and Linda finished cleaning it and preparing it for cooking. After wasting a half liter of vodka on 3 fish, we got smart and put some cheap whisky in a spray bottle. Mike now cleans the fish on the swim step, rather than the deck. Much easier clean up. Mike keeps the gaff handy which makes the fish much easier to handle than when it is wiggling on a line or flopping around on the deck. So for the following week Linda experimented with fish recipes .. steamed, saute'd, baked .. with ginger, garlic, onion, salsa, teriyaki, lemon, butter... you name it. Delicious!
After 26 hours underway, we stopped to rest for the night at Bahia Honda, Panama. In the morning, a local native paddled his canoe out to Aquila to sell us some fruit. After skillfully "working us" he left with $3 for the fruit, a gallon of gasoline for his engine, a bar of soap for his wife, and a pad of paper for his children's schoolwork. Underway for another 22 hours, we motored all night through a frightening storm. The frightening part was not being able to see anything. We're getting used to the lightning and thunder and heavy rain. But this time, it was coming down so hard, and it was so dark out, we couldn't see anything beyond our bow. The storm covered our radar screen like a huge energy blob, so we couldn't use it to see if we were on a collision course with any other ships.
At 8 a.m. the sea was calm and we stopped to rest at Ensenada Benao, Panama. But after sitting there for 5 hours, we decided not to waste this good weather. We weighed anchor and continued on to the Panama Canal. After another 22 hours of sailing and motoring, we entered the Gulf of Panama and picked up a mooring ball at the Balboa Yacht Club near the Bridge of the Americas in the Panama Canal. It was 11 a.m. Sunday morning, July 9.
We spent a week in Panama City waiting to transit the Panama Canal. We met Federico who became indispensable to us (for only $8 an hour). He was our taxi driver, our tour guide, our line handler, and our interpreter during visits with Canal authorities. He arranged for additional line handlers and provided the 125-foot lines we needed. He took us to each office to process our Panama check-out and Canal transit request. We enjoyed a fabulous lunch at a restaurant overlooking the Miraflores Locks and toured the Smithsonian Marine Exhibition Center. We walked through the stone ruins of Panama Viejo (Old Panama) which was founded in 1519 as the first European settlement along the Pacific. About 150 years later, the pirate Henry Morgan attacked and destroyed this rich city. All that remains are the stone ruins of the once magnificent cathedral, beautiful churches, and elegant residences. We drove through the historic district called Casco Viejo, established in 1674. Although the area is run-down, you can sense how magnificent the area must have looked in past years with its colonial buildings, cobblestone streets, old churches and central plaza. Federico also took us to Costco, the marine store, the chart store, the Yamaha store, and the grocery store. This will be our last "big city" for quite awhile.
On Monday, July 17, at 8:40 a.m., we're ready to go through the Panama Canal. Federico and 3 other line handlers are on board, our Canal Transit Advisor (Patricia) arrives, and away we go. We were ordered to side-tie to a tug boat behind a freighter. The weather was good and the transit went smoothly. The only turbulence was caused each time the locks opened and the tug boat took off with no concern for the wake he kicked on us. In such tight quarters, it was a challenge to maintain control of Aquila. So it became a race to see which of us could blast out of the lock first. We exited the Canal and entered the Caribbean Sea at about 7 p.m., dropped off our passengers at the Panama Canal Yacht Club, and went over to the anchorage called the "flats". The next morning we moved to a slip at the Shelter Bay Marina. While here, we've been taking care of boat chores, shopping, enjoying the spa, and preparing for the kids visit next week.
We love to hear from you all, so please stay in touch. Nos Vemos! (see this month's Photo Album)