Antigua and Guadeloupe
We departed St. Martin on March 27 for an 18-hour passage to Antigua. The wind was 12-20 knots and gave us a good reach for most of the journey. We arrived in Jolly Harbor, Antigua, one week before the kids arrived for their Spring break. Customs and Immigration (British) required that the boat be brought to their dock for clearing in. It's one of those skinny little wooden finger piers with a piling out to the side. We maneuvered around the mooring ball and the piling as we approached the customs dock. Linda was relieved to see an employee come out on the finger pier who she assumed would help with the lines. It is so much easier when a person (or two) can catch and secure the dock lines. Just as Linda was about to throw the line, he turned away and boarded the boat on the other side of the pier! Thanks a lot! Linda jumped on the dock and scrambled around to quickly tie the bow, spring and stern lines. We filled out all the paperwork for Customs and Immigration, but we had to return the next day because the Port Captain wasn't in that day. We finally got all checked-in and were granted a 30-day cruising permit.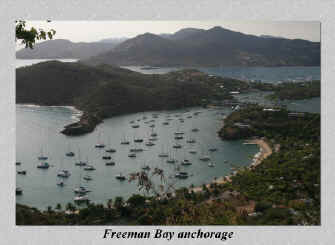 Jolly Harbor is a large new marina with 7 miles of dredged waterfront for villas and condominiums. There is much development here with many nice amenities, including free WiFi and a great supermarket. We anchored out in the harbor for the night and when we finished our check-in, we used the next few days to explore some of the other anchorages where we would be taking the kids. Our first stop was beautiful Freeman Bay in English Harbor. We couldn't believe how many boats were squeezed into this anchorage! But we managed to find a spot and dropped our hook. The scary part was that the boats didn't swing in unison. The wind and current caused the boats to swing in different directions. It was nerve wracking! We hiked to the top of Shirley Heights for the sunset. It's only 1/2 mile, but it is very steep and the trail is rough. The exercise felt good, but the weather was gray (all week). We hoped that it would be better next week when we do the hike with the kids. (And it was!)
We sailed around to Falmouth Harbor and picked up a mooring. Falmouth is a major yachting center. It is a huge bay with several marinas, including the Antigua Yacht Club Marina. We splurged and had a very nice dinner at the Yacht Club Restaurant. After checking our email at the free WiFi Mad Mongoose Bar, we set sail. We headed for Indian Creek which is a cozy little hideaway winding back to a lagoon surrounded by mangroves. Eric Clapton owns the house on Indian Creek Point. We were the only boat there and it was very peaceful after being with so many boats in English and Falmouth Harbors. We went snorkeling in the afternoon, but the visibility wasn't that great. Again however, the exercise felt good.
We sailed back to Jolly Harbor the day the kids arrived and checked into the marina that Lance arranged for us. The marina doesn't have any finger docks so the boats are tied to the dock side-by-side with lines running out to pilings. This type of mooring makes me a nervous wreck until we get all secured. Mike was confidently in control at the helm while I was anxiously trying to follow the line-handling orders of the dock master. He was barking orders at me using terminology that I wasn't familiar with, and it was obvious he was getting frustrated. We finally got everything secured properly and I was ready for a glass of wine!
When the kids arrived, Mike had them put on the pirate shirts and pendants he bought for them, and they ceremoniously raised the pirate flag. After getting all the luggage aboard (including all the stuff we asked them to bring for us), we headed for the long white sand beach. Jolly Harbor Marina also has a restaurant with a swimming pool which the kids loved. After one night there, we headed to English Harbor. The weather was beautiful! Thank you, thank you! We played on the beach, showed off how fast we could go with our new 15 hp dinghy motor, walked around Nelson's Dockyard, explored the ruins of Fort Berkely, and hiked to Shirley Heights for the sunset and listened to the steel drum band while sipping on a rum punch. Mike and Lance finally got to go scuba diving. They weren't able to dive for the past two vacations, so they were determined! It turned out to be a great dive site, too, so that was very cool. See the photo album for some great shots of this area.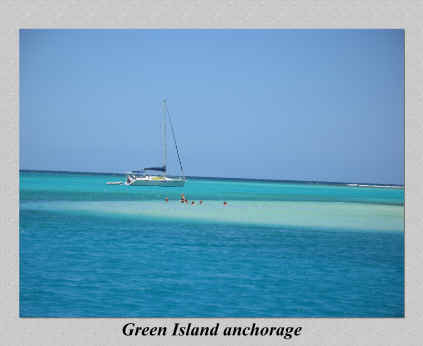 After a couple of days in the bustling English Harbor - Falmouth Harbor area, we sailed to Green Island which is Antigua's easternmost tip, for a more remote experience. This is a beautiful undeveloped area with a large expanse of turquoise water. You can anchor just about anywhere. We spent several days here and anchored in West Bay, Ricketts Bay, and Nonsuch Bay. The kids zipped around in the dinghy or played on the beach, and we did lots of snorkeling. We spent a wonderful afternoon at the Tamarind Restaurant and Pool. Our final two days were spent back at Jolly Harbor where Lance made arrangements for us to be back in the marina. As always, it was so hard to say goodbye. The kids got teary eyed and that always chokes me up. We just can't wait to see them again this summer. The boat was so quiet that evening, we were both feeling kind of blue.
But we had to snap out of it because Aquila was demanding our full attention again. The generator was dying on us. It would run for a few minutes then just die. We ran every diagnostic and it appeared to be the fuel pump. Damn! For some stupid reason, we had decided not to buy a spare fuel pump when we were in Florida. We sailed back to Falmouth where all the repair people are, but the Classic Yacht Regatta was in full swing and we couldn't get a service call to confirm our suspicion about the fuel pump. We decided to go ahead and buy it anyway just in case that was the problem, but there wasn't a fuel pump for sale on the island! We had to order it from Florida. It cost $90 extra for shipping and customs fees, but we had no choice. It arrived 2 days later and Mike had to install it in a new location as this pump is larger than our previous pump. And it had different connections, so we had to buy some extra parts to get it installed correctly. We held our breath as we started the generator, ... and then it died again. No!! Could it be the fuel solenoid is bad? What should we do now? Mike bled the air out of the fuel line one more time, and then it worked fine. Hooray! Oh happy day! Let's go to Guadeloupe!
Our sail to Guadeloupe was an easy 40-mile day sail. Guadeloupe (French flag) is composed of two islands, Grande Terre and Basse Terre, with the River Salée separating the two halves. We left Antigua in the morning, and arrived in Deshaies (pronounced Day-Hay), in Basse Terre in the afternoon. Sailed all the way in good wind and beautiful weather. Deshaies is an entry port, but they don't take it very seriously in this little village, and the office was closed for the entire two days we were anchored there. Many other boats were flying the yellow quarantine flag along with us. We went ashore anyway and walked around the town, ate lunch at the little restaurant at the pier, and visited the Botanical Gardens. Our friends Alan and Joan on Hylas49 Moonstruck, were going to Pointe à Pitre on Grande Terre, so we decided to join them.
This was another 40-mile day sail, but it didn't turn out to be an easy one. We started out motoring with no wind, then had a rousing hour or so with 18 knots on a beam reach, then 25 knots moved around to our nose and stayed there. We were bashing into it all day, wasting lots of precious fuel. We finally arrived at the marina in the late afternoon and immediately joined Alan and Joan for liquid refreshments on Moonstruck. We originally met Alan and Joan in the British Virgin Islands. It was good to see them again and get to know them better. We spent the next few days touring, hiking and exploring Guadeloupe with them and had the best time! And how wonderful it is that Alan speaks French. No one here speaks English! It made getting around so much easier because he could talk to local people for directions and recommendations. And he could interpret the restaurant menus and joke with the waitresses. It was delightful. We would have missed so much without Alan. Mike learned how to order another beer in French, but when he practiced his new language skill, he apparently asked the waitress for more love. She looked surprised, but she was willing to give Mike a hug if that's what he wanted! Joan prepared a fabulous dinner for us and we enjoyed a fun evening on Moonstruck last night. They left this morning. They are going to cruise in the Mediterranean for a few years. We'll stay in touch with them and hope to reconnect when we "cross the pond" next year. Bon Voyage!
On Saturday morning we were preparing to go touring with Alan and Joan, and we noticed the freezer temperature was up to 20 degrees. We reset it for 11 degrees, it appeared to be working fine, and we set off for the day. When we returned the temp was continuing to slowly rise. Now it was 24. We got the Frigoboat manual out and ran through the troubleshooting section. We ran through every diagnostic we could. Everything seems to be working, but the temperature is rising. The compressor is running so it can't be that. What a nightmare if that is the problem. What about freon? Could it need a charge? It's too soon! It shouldn't need freon! Oh Lordy, what can we do now? I've got hundreds of dollars of meat in the freezer! The next day was Sunday, so we bought a block of ice to help keep things cold. Throughout the day we watched the temperature rise to 27. Oh please, just let me keep the meat frozen until someone can get here in the morning! Monday morning, Mike called a refrigeration service man but he can't come out until Tuesday morning. It's Monday evening now and the freezer is 33.1. The meat on the top is defrosting. I gave a bag of chicken breasts away this morning and will start to cook the rest as it defrosts. But there is too much. I've got steaks, roasts, pork loin, and dozens of boneless chicken breasts. I can't believe I'm losing all my meat! I just hope a lot is still frozen when the service man arrives in the morning. I'm not feeling very optimistic. Sigh. Can't I have just one website update without a problem paragraph??!!!! And this month it's two problem paragraphs!
Tuesday morning update 5/1: The freezer repairman just left. The compressor is fine, and we don't have any freon leaks. He believes that we may have caused the problem when we defrosted the freezer recently. It's possible that a little oil got down the small copper tube attached to the evaporator and caused a blockage which didn't allow the refrigerant to do its job. That's why everything appeared to be working fine, just not getting cold. He got us up and running again. But everything in the freezer has defrosted. I guess I'll be spending the day cooking. We're leaving tomorrow for Iles des Saintes.
Wednesday afternoon update 5/2: Oh my gosh, we've arrived in Iles des Saintes and this place is beautiful! AND Alan and Joan from Moonstruck are here. What fun! We had drinks on Moonstruck and dinner on Aquila. They leave tomorrow to meet their crew in Antigua, but how fun it was to see them again before their Atlantic crossing. Oh yeah, and our freezer temp started rising again today. We don't know what the heck is wrong with this system. But all the cooking I did yesterday will probably be lost. Oh well. We ate the filet mignon last night, and grilled a nice roast tonight. I haven't eaten this much meat in I don't know how long. Maybe this is destiny's way of telling us to eat more fresh fish by wiping out my freezer. This place is too beautiful to worry about freezers and frozen meat. I'll tell you all about it, and share pictures in next month's update.
Life is good!
Click here to view this month's photo album.