August, 2011
Our cruise up the East Coast is finished. Time to start working our way back down to Virginia where we will haul out for a couple of months. Mike had an ATF Retired Agents Reunion to attend in California, so we decided to sail back to Perth Amboy, New Jersey. My girlfriends live there, so I could stay on the boat alone and still feel like I'm not totally by myself. Joanne arranged for us to have one of the yacht club's mooring balls. We got Aquila moored and Joanne drove Mike to the airport. Barbara and Joanne belong to a wine-making club. We attended a winery open house event and you know that was a hit with me! On the full moon, the girls spent the night aboard Aquila. We stayed up late into the night, sitting in the cockpit, enjoying lots of wine and gossip.
Mike had a great time in California at the Reunion. He stayed with his best friend Ray Torres who is also a retired agent. They drove from San Diego to Los Angeles to attend the festivities. Sean was able to join the group for the Friday night dinner which was special for Mike. It gave him the opportunity to show off Sean and his accomplishments. He was very proud.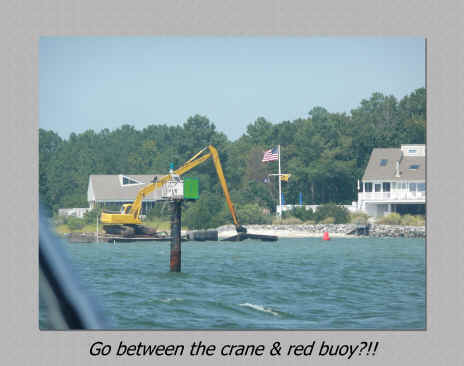 When Mike got back to the boat, we prepared to sail to Deltaville, Virginia. It was an easy overnight passage from New Jersey to Virginia with a beautiful sunset and sunrise. Just a little more wind would have made it perfect because the light wind forced us to motor sail and I get tired of the sound of the engine. We entered the Chesapeake Bay at Norfolk and worked our way up to Deltaville. The entrance to the Deltaville Boatyard is a very shallow channel that is marked by red and green buoys that are so close together it is like threading a needle. It winds around and takes you uncomfortably close to shore before making a sharp turn to the left. When we approached, it was being dredged, so now we had the additional challenge of avoiding a large piece of machinery. After briefly getting stuck in the mud as we rounded the corner, we eventually made it to the anchorage. Mike was ready for his 'we-cheated-death-again' beer, which he enjoys after every passage.
We had arrived in Deltaville one week before we were scheduled to be hauled out for storage. That would give us ample time to eat all the food, put things away and prepare the boat for haul out. However, we started getting weather updates about a possible Hurricane approaching. Each day the forecast got worse. Sure enough, we were in the path of Hurricane Irene. It was scheduled to hit us on Saturday. The boat yard starting hauling all of the boats in the marina out of the water. They said that maybe they would be able to get to us by Friday. On Thursday morning, we were given 10 minutes notice that we were next. What a scramble! I was soooo NOT ready! For the first time ever, we were instructed to enter the haul-out slip stern-to. Then, they had to remove our backstays in order for the crane to lift us. The whole process was a much bigger event than any of the other haul-outs we've had. We were put in a yard that was jam packed with boats inches apart. It was pretty amazing that they could get so many boats in the yard. If the hurricane knocked anyone down, we would all go down like dominoes. I don't like being on the boat when it's up on-the-hard. Heights make me dizzy. So I was absolutely not enjoying the thought of riding out a hurricane up on jack stands.
Fortunately, our friends Richard and Diane (s/v Ava Ryan) put us in touch with their friends Rusty and Joy who live nearby. They invited us to stay at their house over the weekend until the hurricane passed through. They picked us up before the roads were closed and took us to their beautiful custom home on a golf course. Several other hurricane-concerned folks were also spending the weekend at the house. So we had a party! Rusty and Joy are fantastic hosts and we totally enjoyed our hurricane party weekend with them. Plus, we were introduced to TV Ears. So impressed with them, we got online and ordered some for ourselves immediately. I can actually hear what's being said on TV now! I love it! We got some wind and rain, but not hurricane force, thankfully. When we returned to the boat on Sunday, the only evidence of high wind was pine needles all over the deck from the pine trees that surround the boatyard. We were so relieved. Felt like we dodged a bullet.
We spent the next few days doing boat projects, a little varnishing, etc. We had a visit from our boat broker and signed our For Sale agreement. Then we packed and were off to catch our plane to California where we would spend the next two months with our kids. I'm so excited, I can't wait to get there!!