We spent the first half of June skipping down the Windward Island chain to Grenada. The islands were beautiful (aren't they all?). We enjoyed a little bit of snorkeling and a lot of doing nothing between the anchorages. It was very nice and relaxing, but for some reason we were eager to get to Grenada.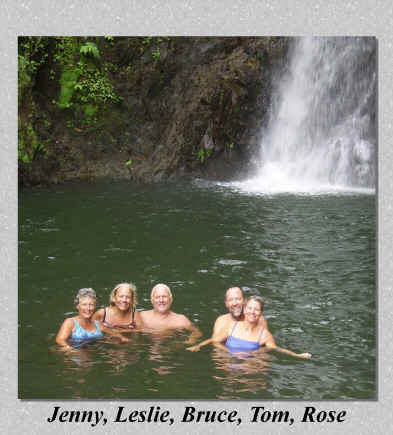 We reached Grenada on June 14, made new friends, and started enjoying the social side of cruising again. Tom and Rose from s/v Sojourn, Bruce from s/v R Phurst, his girlfriend Leslie (visiting from Florida) and temporary crew Jenny (from South Africa) became our new family. For the next two weeks, we played Mexican Train Dominoes, hung out at the yacht club with our computers checking email, hiked to the waterfalls, toured the island, went to the Friday Fish Fry, went snorkeling together and visited each other's boats for cocktails. It's so much fun to make new friends and compare travel plans to see if you're going the same way! We hope to see Tom and Rose in Trinidad (they are already there), but Bruce is heading for Venezuela. We'll see Leslie next year when we get back up to Florida. There is no telling where Jenny will be. Her plans are very liquid as she crews from one boat to another going who-knows-where! Last I heard she was possibly heading to the South Pacific. I think she is one gutsy grandma!
We anchored in the lagoon at St. George's when we arrived in Grenada. It was calm in the lagoon and we sometimes got a strong enough signal to get internet access on the boat. It was also close to the yacht club, market, and marine store. BUT, we were getting mosquito bites at night and we needed to be in clear water to run our water maker. So after a few days, we moved outside of the lagoon to the bay where we had to endure a bit of a roll from a northerly swell. At least we had a nice breeze, didn't need our screens and we could make water. Each day was filled with some activity or outing and the time went by so fast. (Now that I think about it, the past two years have gone by pretty darned fast.) One day, our little group caught a local bus (mini-van) to the Seven Sisters Waterfall trail. Then we hiked about an hour on a sometimes muddy trail into the rainforest to the falls where you could swim in fresh, cool, clear water. Mike decided to jump into the water from the top of the waterfall, and I was so disappointed when my camera didn't catch the moment. I was poised and ready to get the great action shot, but my battery died at that moment. Another day, we took an all-day island tour with a tour guide. That was fun and interesting (see the pictures in this month's photo album). The photo album will also show you the fun we had each Friday night at the Fish Fry in Guyave. What can't be seen (because I don't have an underwater camera) is the scenery below the water. We snorkeled at one location that has been populated with underwater statues. There are people down there wearing cowboy hats, riding bikes, typing at a desk, laying in the sand, etc. It's weird. I guess these figures serve as a start for a new reef, because much of the reef was destroyed by Hurricane Ivan. There were certainly a lot of fish around there. Schools of fish so large that they blocked out the light entirely. It was pretty cool to swim through the middle of it.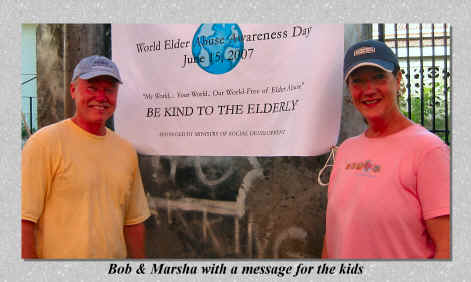 We eventually sailed down to Prickly Bay where we met Bob and Marsha. They are purchasing a Hylas 46 and we had been communicating with them via email. They flew to Trinidad, with a side trip to Grenada for a vacation, and we planned to get together. After meeting them, we invited them to sail with us back to Trinidad, rather than fly back. They made a few phone calls, revised their itinerary, and will be sailing with us when we depart tomorrow evening. I love that flexibility and spontaneity! We joined them for some island touring and dining out as they had a rental car. We all got a kick out of the fact that Bob couldn't get used to the reverse design of the cars here, and kept turning on the windshield wipers every time he went to make a turn. And Marsha had to remind him to drive on the left side of the road. I have no idea how we made it home the night we went out to the Fish Fry. It was raining on our way home. It was over an hour's drive on a very dark, narrow, wet, winding road riddled with potholes and deep ditches on the sides. Cars pass each other with only inches to spare on these narrow roads, and there are numerous hairpin curves. And they drive with their brights on! Oncoming traffic completely blinded us. Bob's my new hero for getting us back unscathed. But it was a little early for me to breathe easily. I wasn't home yet.
When Mike and I returned to Aquila that night and I jumped off the front of the dinghy onto the swim step, the boat pitched and I lost my balance. I went straight down into the pitch black water. Mike was so surprised and just couldn't believe it. He immediately lunged forward in the dinghy to where I went down so he could pull me out, unfortunately leaving the dinghy engine idling in forward gear. As I tried to come up to the surface, the dinghy was on my head. So I swam forward to get away from it, came up for air and the dinghy came on top of me and pushed me back down! I swam forward, got my head up and yelled "You're running over me!!", just as I was getting pushed down again. Mike then realized that the dinghy was in gear, jumped back to the engine and flipped it into neutral. I swam back to the swim step and pulled myself aboard, hacking and spitting out salt water. Mike did seem pretty shaken over the incident, so I don't think he was really trying to "off" me. I was amused by my own reaction because I didn't feel any fear. I don't like black water, so I would have thought that something like that would really frighten me. It actually tickled me. It felt like a Lucille Ball episode. Even when I was gasping for air and yelling that he was running over me, I was laughing. I just couldn't believe that I fell in the water fully clothed. It seemed so ridiculous that it was funny to me. Weird reaction, huh?
Mike and I will be in Trinidad until July 17, when we will fly home to California for 3 months. We can't wait to spend all summer with our kids and grandkids. It's difficult to think about anything else. In a few weeks, I will do one more update covering Trinidad. Then the website will take a hiatus for the summer.
This is my computer desktop collage. Mike and I see these faces every time we turn on the computer. Can you blame us for wanting to go home for awhile?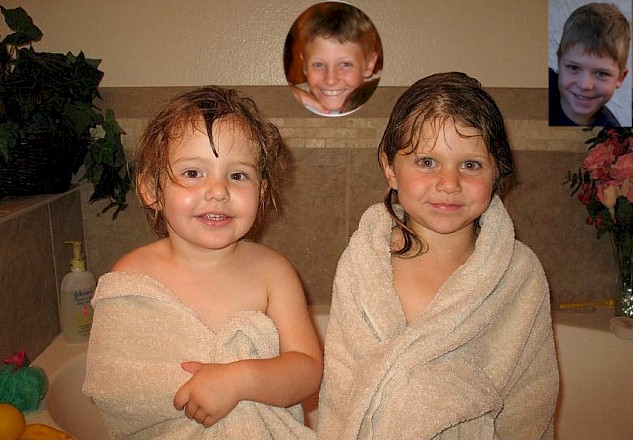 Click here for this month's Photo Album.