We've been here in Barcelona, Spain for 2 whole months! I guess it's time to tell you what we're feeling.
In a word .... cold! And it's going to get colder. This weather might be fine to many people, but we really like warm weather. We are bundled up in everything we've got, and we're still cold. My lips are chapped and my skin is dry. Mike carries a wad of kleenex for his stuffy nose. I'm layering 3 thermal tops under my sweater and jacket, adding a neck scarf, knit cap and gloves to go out. I had to purchase these accessories, of course. We never needed them before! Everyone here is telling us that this year is unusually cold for this early in the season. Great.
We decided that we had to have a heater in the boat. So we bought an oil radiator type that sits in the middle of the room. It is a European heater and requires 220 volt power. Our boat is configured with standard USA 110 volt outlets. Knowing that the power we would get in Europe would be 220 volts, we bought a step-down transformer when we were in the Azores so we could continue to use our electric outlets and run our boat on 110 volt power. We tried to use an adaptor to plug in the new heater, but 110 volts just wasn't enough 'juice' to get it hot. So we ran the cord out a porthole and Mike spliced it into the main power line from the dock. Now it works .. and we're warm and happy.
Which brings me to confess that we spend an awful lot of time on the boat because we are comfy and cozy. We sleep in, have our coffee, check email and news online, play cards, read, play cribbage, eat, drink wine, listen to music, play backgammon, play computer games, watch movies on DVD, and go to bed. Oh my God! We are so boring!
OK, maybe I'm exaggerating. But I do feel guilty if we don't get out and explore, so we force ourselves to go out. I check the guide books and local magazines to see what's going on and schedule outings for us. And then, of course, we always enjoy ourselves when we do go out. We also participate in the weekly Sunday pot luck with the cruisers here in the marina, and the ladies have a regular Tuesday morning coffee outing. All of the cruisers have been here a long time, so we get good tips and advice on the best grocery stores, hardware stores, restaurants, bars, etc. We have enjoyed fun outings with some of the cruisers for drinks and sandwiches at the cava bar, an evening at a Flamenco concert, and another evening at a jazz concert. However, there are very few Americans here and we haven't made any 'best friends' to pal around with. We bonded with Patrick and Christine on m/v Frog Kiss, but they were here for only 2 weeks, and we miss them.
We had a great time taking the train to Montserrat with Patrick and Christine. We took the cable car up the mountain to tour the Benedictine Monastery which was founded in 1025, and is still home to a community of 80 monks. Then we toured the Spanish Village at Montjuic and watched the terraced fountains, called La Font Magica, which come alive with a wonderful lights-water-music show in the evening.
On our own, Mike and I attended a wonderful Spanish Guitar concert at the impressive Music Palace (Palau de la Musica Catalana). We toured the Picasso Museum which occupies five medieval stone mansions. We visited the underground Roman ruins at the City History Museum (Museu d'Historia de la Ciutat) and we regularly walk by the city's finest Gothic church, the Eglesia de Santa Maria del Mar. We toured the amazing Gaudi project, La Sagrada Familia (Temple of the Holy Family), which is still not completed after more than 100 years. It would take two pages to describe this incredible cathedral, so I won't. We'll do this tour again when Frank and Patty visit us in March. (Don't worry, you two! We're saving all kinds of new things to do when you get here, too!) The following pictures are a small sample of the wonderful sights we are seeing here. Check out our Photo Album for more.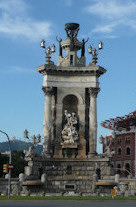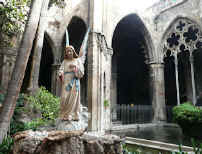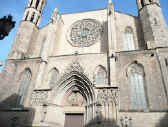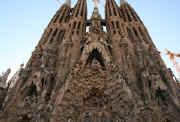 We regularly walk up La Rambla with it's abundance of street performers, sidewalk vendors, shops, restaurants, bars, and tourists. We have become skilled at getting around using the fabulous system of subways, buses and trams. I've never seen anything as efficient, clean and affordable as the public transportation in Barcelona. But mostly we just walk. This is a wonderful place to walk around, with all the ancient buildings and skinny alleys in Barri Gotic and Barceloneta lined with chic little shops, and amazing aromas coming from the bakeries and cafes. Our body clocks have finally adjusted to the late lunch and even later dinner hours.
And now we are going home to California for Christmas! We leave this week and will spend a few days in Madrid before we fly to the US. We are so excited to see our family! This has been our longest stretch without seeing them since we started sailing, and we miss them all terribly!
Wishing everyone very Happy Holidays!! Click here to view the Photo Album.