We threw off the dock lines and went sailing more times this month than any other. It was valuable practice for us and loads of fun. I think being in Ventura and having lots of friends and family come down to the boat gave us a reason to sail. If it is just the two of us here, we tend to busy ourselves with projects. When people come by, everything goes into "entertainment" mode. I love it!
We spent a lot of money this month. We are approaching our "sail away" date in October and need to buy things now that we can't easily get after we leave the country. We decided to order the custom mattress for our stateroom. I just can't seem to get a good night's sleep on the mattress that came with Aquila, even after we added the memory foam topper. After 30 years on a waterbed, this is just not soft enough. The new mattress cost $2,000 and we pick it up next week. It's money I didn't want to spend, but I can't wait to sleep on it. Then there was another $2500 on Linda's dive gear (not to mention the $5200 dive compressor and $600 installation last month), plus $600 for a few immunization shots for traveling to foreign countries, and a very large investment in spare parts and equipment for the boat. We need to get out of here, just so we can stop spending money getting ready to go!
The month started out good when Russ came out to visit us one afternoon. We hung out in the cockpit, ate, drank and laughed and laughed. We always get a hefty dose of endorphins when we're with Russ. (Laughter creates those healthy, feel good endorphins in your body.) Russ promises to come visit us during our travels and we hope he does.
August 7, 8, & 9
On August 7, all the kids and grandkids joined us for a one hour sail down to Channel Islands Harbor to see the Tall Ships on display. It was a bit cloudy and cool, but we had an easy sail with 15kts of wind. The channel was a zoo with so many boats going in all directions. So, after quickly cruising past the Tall Ships, we turned around and headed back to Ventura Harbor. We always wash the boat after a sail, and Blake and Garrett love to help. When everything was ship-shape, we had a BBQ and just enjoyed hanging out together. Blake and Garrett attempted to impress Keni and Kailyn with their skills at playing poker. I think Blake needs to work on his "poker face".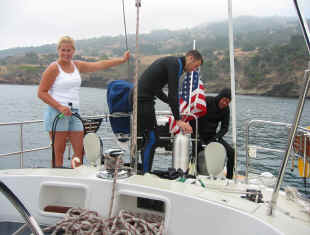 Sean, Keni and Kailyn spent the night on the boat. We did a little last minute shopping in the morning before sailing over to Santa Cruz Island. It turned into a sunny day and we got to sail most of the way over. It took a little over 5 hours to reach Pelican Bay, so we weren't breaking any speed records. There were 4 other boats in the anchorage. We motored around and picked a spot to drop our anchor. This was our first anchoring experience with Aquila, so tension was high, as we tried to agree on what to do, how to do it, and when to do it. I guess we should have agreed on the process ahead of time. And, of course, all the other boaters are watching us. It's common knowledge that new boats coming in to an anchorage provide the evening's entertainment most of the time. We were satisfied with where we layed on our second try, so that wasn't too bad. Then we had to set a stern anchor, because everyone else had. Setting a bow and a stern anchor prevents your boat from swinging if the current or wind shifts during the night. We were getting the dinghy ready to take the stern anchor out to drop, when we realized that we left our gas tank for the dinghy back at the dock in Ventura! Oh good grief. We had removed the red 6-gallon tank from the stern rail so that I could take a picture of Aquila without the deck clutter, and we just forgot to strap it back on for this trip. Now what? Well, that's what the oars are for. So Mike rowed the anchor out while Sean donned his wetsuit and dive tank to do the visual anchor checks. Since this was our first time setting the anchors, and also since it was a very "rolly" night, neither of us slept very well. But we gained some valuable experience, reviewed our anchoring procedure and communication techniques for next time, and felt good about it.
The next morning, Sean and Mike put on their dive gear and cleaned Aquila's bottom side. Then they headed over to the cliff wall to do some diving that was a little more fun than scrubbing muck off the bottom of a boat. Keni, Kailyn and Linda relaxed in the cockpit and enjoyed the sunny clear blue sky morning. Then the fog rolled over us. Sigh. We raised our anchors about noon and motored home. No wind. However, at about 3 in the afternoon, we came upon a pod of dolphins that played with us for a long time. There were dozens of them and we got some great video footage. Keni and Linda had a wonderful time on the bow taking pictures and watching the amazing show the dolphins put on for us.
August 10, 11, & 12
Herman and Claudine, s/v Bijou from Channel Islands Harbor, sailed with us today. They will be crewing with us on the Baja Ha-ha in November, so this was an opportunity for them to get acquainted with Aquila. We only had light winds today, but we cruised around taking advantage of the most favorable points of sail. We flew the asymetrical spinnaker, too. As always, it's fun to sail with experienced sailors because we always learn so much from them. Plus, Herman and Claudine are fun to be with! We hope to be able to sail with them again when we move over to Channel Islands Harbor next month.
That evening, Ray and his two children arrived for a mini-vacation. We got everyone settled in, ate dinner, and enjoyed the evening visiting with each other. On Thursday, we went out for a day sail, but it was cloudy and the winds were weak. We basically just motored around waiting for a sailing opportunity, or a dolphin sighting. Even this type of outing is good practice for us because we have to go through all the preparation steps for departure and arrival, and the ever-stressful stern-to docking manuever. We've sailed every day this week, and we plan to sail tomorrow as well. We're getting lots of practice.
On Friday, Virginia joined Ray, his kids (Devon & Kendall) and us for a sail. It's still cloudy and overcast here along the coast, even though the temperatures are soaring to 90+ degrees inland. Sure wish we could get some of that sunshine. We motored out almost all the way to Anacapa, then caught the wind and flew the spinnaker back in 8kt of wind. We were able to do about 4 kts speed. It was a very relaxing and enjoyable day. Virginia's homemade lemon bars and chocolate chip cookies might have been the best part! We had cocktails and dinner when we got back and didn't want the day to end. Ray, Devon and Kendall left Saturday morning and we headed out to Kimberly's house to visit and babysit.
August 16 - 20
Ok, now it's Kimberly, Lance and the kids turn to go to Santa Cruz Island with us. We picked up the grandkids to spend the night with us on the 16th, so that Kimberly and Lance could play softball that evening. They play in a league. (And they're doing very well! They are tied for first place.) They joined us in the morning and we took off for the island. We started out sailing, but we lost the wind after an hour or so and motored the rest of the way. We went to Pelican Bay again because the weather forecast indicated it to be a favorable location to anchor. It took us a couple of tries to get the anchor where we wanted, and even though we agreed on the procedure, it was still very stressful. I'd have to say that the most stressful part is trying to manage the prop walk to port in reverse. It's maddening. Especially in tight quarters. I'll explain what that means. Simply put, the process for anchoring is to bring the boat to a stop, drop the anchor, put the boat in reverse and back down as you continue to lay out the chain. The problem is that when we go into reverse gear, the propeller pushes the stern (back of the boat) to port (left). Usually, you regain control as soon as the boat is in motion and the rudder starts working for you. But if you are close to another boat, and if the wind is blowing you in that direction, and the prop wants to walk you over to meet your neighbor, well .... you get the idea. It's very stressful. At least this time we had the advantage of a motor on the dinghy to help drop the stern anchor (we remembered to bring the gas tank). We were comfortable in the anchorage this time, and stayed 2 nights. Then we moved farther north to stay one night in Twin Bay. No problem anchoring here at all. Either we are getting better at it or else it was because ... we were the only one there! It was so beautiful.
Our 3 days at the island were beautiful, sunny, and filled with fun activities. (See photo album for August) We all went hiking on Santa Cruz Island. Lance and the boys explored caves, and found fresh water ponds (with frogs, much to Blake and Garrett's delight). They took fast dinghy rides along the coast and did some fishing from the dinghy as well as the boat. Mike and Lance did lots of diving, used the speargun to catch fish, filled a bag with scallops, and we had absolutely delicious dinners. Kimberly and Lance took a nice late afternoon hike and enjoyed the spectacular views. The sail back to Ventura was fabulous. We enjoyed a brief encounter with dolphins, but would have liked more. The wind was 8 to 12 kts at 120 degrees off our port side and was GREAT for flying the spinnaker. Lance was at the helm and trimming the sails the whole way and eeked out as much speed as possible. We averaged 6 kts, and had her over 7 kts several times.
Our faux pas for this trip occurred during the dousing of the spinnaker. We were nearing Ventura Harbor and the wind was getting stronger. Too strong for the spinnaker. It was gusting up to 16 kts. Time to bring it in. Mike went forward on the bow to prepare the lines for dropping the "sock" over the sail as it deflates. Linda turned the boat before Mike had the lines ready and she turned into the wind, rather than away from it. The sail backwinded and swept Mike across the bow and almost over the side. He was holding on for dear life, getting flogged with the flapping sail and lines, and screaming profanities, such as "@!#@&*!! What the #@%* are you doing!!?? Are you trying to kill me!!!" The spinnaker is made of nylon and makes a LOT of noise when it is flapping against everything on the boat. The boat was heeling over, the grandkids were all crying, and Lance was yelling at Kimberly to get them all below. It was pretty chaotic. We got turned around and Mike was finally able to get up (the sail had him pinned under the rail trying to push him through it). When order was restored, my grandson asked me why I tried to kill grandpa. He was giggling when he asked, so I think someone put him up to saying it, so I answered "for the money". All joking aside, it was pretty scary and makes you realize how dangerous it is to be careless like that.
August 22 - Anniversary Dinner
Every year, we take Kimberly, Lance, Sean and Keni out to dinner to celebrate all of our wedding anniversaries. Our anniversaries are all within a couple of weeks of each other, so we celebrate together. We try to surprise them with something new and unique each year. This year we took them to the Sunset Ranch in the Hollywood Hills, which was recommended by Mike's good friend Barry H. We took a 90-minute horseback ride across the hills through Griffith Park, with incredible views of the city. At our destination, we tied up the horses outside a Mexican restaurant where we ate dinner. Our guide said that we were only permitted to have one drink. Fortunately, this restaurant serves a 42 oz Margarita! We rode back to the ranch by moonlight under the stars. It was a fun, fun evening. And it would have been even more fun if Sean hadn't gotten held up in court. He had to testify and his case ran late. He couldn't get to the ranch in time for the horseback ride, so he had to meet us at the restaurant.
August 25 - 28
I took Kimberly, Lance, Blake, Garrett and Paige to LAX on August 25 to catch a flight to Texas to visit Aunt Valarie (Linda's sister) and Uncle Tim for 4 days. They had the most wonderful time there. They also got to meet their other cousins and family from Texas. They caught catfish at the lake, hunted pigs, rode on Jack (a Palomino), went swimming, toured the ranch and saw hundreds of horses, drove quad-runners around a private track, had a BBQ, and just had the time of their lives.
On Friday, Linda's girlfriend Liz came out for a sail with us. The winds were light, so the sailing wasn't too exciting. But again, the practice ... it's good.
On Saturday, we went to two parties. Kailyn's first birthday was celebrated at Grandpa Ken and Grandma Sheila's house with a pool party in the afternoon. It was over 100 degrees outside, so most people stayed inside with the air conditioning and the food! Kailyn was in good spirits (as usual) and had fun digging in to her own personal birthday cake. Then, we went to Lance's dad Lee's 65th birthday party at Lee and Linda's house. We had fun sharing stories with Lee's friends.
On Sunday, Diane and Eleanor (Mike's sister and mother) who had driven in from Arizona to attend Kailyn's birthday party, came out to the boat, along with Keni and Kailyn. We had lunch in the cockpit and they said they wanted to sail. It was very windy and choppy out of the harbor. We were taking water over the bow as soon as we got outside of the breakwater. The wind was 18 to 20 knots! The motion wasn't agreeing with Eleanor and we decided to turn around and head back to our slip. I don't think that experience left them with a very good impression of what the sailing life is all about. Actually, Mike and I would have enjoyed a little more of that action. We had Aquila doing 8.3 knots SOG. It was fun! The difference between being in the harbor or out of the harbor was dramatic. Inside the harbor was sunny and calm. Eleanor said she liked that better. After Mike finished washing the boat, Diane took us all out for a nice dinner over at the harbor village.
August 31
Sean had a day off of work, so he and Kailyn came down to the boat to hang out with us. We had a slow, relaxing day and just visited all day. Sean gave us a ride back from Channel Islands Harbor after we drove our car over there to drop it off. We plan to sail there tomorrow to stay for as long as we can in September.
September 1
We departed Ventura Isle Marina at 9:30 a.m. and motored an hour down to Channel Islands Harbor. Can't find an available 50-ft slip in any marina here, so we got a 10-day slip at the Public Dock. We hope to get a 10-day extension if we can. One of Mike's buddies came down to have lunch with us. He gave Mike the update on what's going on at work. Mike's glad to be retired.
See all the pictures in the August Photo Album.