Two months since my last letter. On September 1, we left the island of Ibiza to do an overnight sail to Cartegena, Spain. Cartegena was one of our favorite ports of call when we came to the Mediterranean 2-1/2 years ago. We found a great little restaurant and enjoyed revisiting this charming city.

We day-hopped down the Costa del Sol of Spain, anchoring in Ensenada de los Terreros, Cala de San Pedro (which might be a hippy nudist colony .. it was rather weird), Almerimar harbor, and La Herradura. Then we ran out of anchorages and stopped to berth in Marina Fuengirola and Marina Estepona, before we reached our destination of La Linea, Spain. La Linea is next to Gibraltar, the entrance to the Mediterranean Sea through the Strait of Gibraltar. We stayed for 10 days waiting for the right weather to exit the Strait and enter the Atlantic Ocean.

Seville (or Sevilla) is a city we always wanted to visit, and we decided to take a couple of days, while we were waiting for the weather, to take a little trip over there. I was checking out the bus schedule when we met a French couple in the La Linea marina who offered us a ride to Seville in their car, since they were going that way. We called to rent an apartment in Seville that permitted dogs for a few days, packed up Lucy and our bags, and headed out with our new friends. They took us on a meandering route of back roads, rather than the super-highway. We saw the beautiful Spanish countryside, stopped for lunch in a quaint mountain village, drove by pristine lakes, cattle grazing on the rolling hillsides, fields of agriculture, and vineyards as far as you could see. They delivered us to Seville, we said our farewells and they continued on their way. It was so nice!

Seville was everything the tour books promised. We really enjoyed walking the narrow, winding, medieval lanes and finding the romantic, hidden plazas where we could stop for tapas and drinks. We also followed our tour book recommendations on a walking tour around the city to see the main sights. A few pictures are in this month's Photo Album. Seville's Cathedral, completed in 1507, is one of the largest in the world. It is rich in sculpture, stained glass and art treasures, including Columbus' Tomb. The Alcazar was fantastic to tour. It was the residence of generations of kings and caliphs, and has been expanded and rebuilt many times over its 11 centuries of existence. It is a complex of palaces and gardens and my words could not describe its beauty. We also took a guided tour of the Plaza de Toros, Seville's bullring. It is one of the most handsome and oldest in Spain. It was here that bullfighting on foot, rather than horseback, began in the 18th century.

Returning to La Linea from Seville proved to be a challenge. Since our friends had driven us there, we were not aware that the buses do not allow dogs on-board. They wanted us to put Lucy in the baggage compartment under the bus! I don't think so! We decided to rent a car for a one-way journey. When we tried to hail a taxi to take us to the car rental location, the taxi wouldn't allow Lucy in the car. No dogs allowed. So we walked, with our baggage, about 2 miles, only to find out that none of the rental companies had any cars available that day, or even that week. Oh my gosh, how are we going to get back?! We went to the main train station and found out that we could take Lucy on the train, and that the last train to La Linea was leaving in 3 minutes! We got in line to buy our tickets, fidgeted impatiently as we waited our turn, then ran like bats out of hell to the departure platform. We got there just in time, but as we were boarding, the conductor asked us for the ticket for Lucy. Uh-oh. We didn't know that we had to buy a ticket for her! Fortunately, he let us buy the ticket on the train. Whew! We had a scenic 5 hour train ride, and in La Linea the taxi did not have any problem letting Lucy in the car for our return to the marina. Overall, we had a wonderful trip, but next time I'll pre-arrange ALL of our transportation.

In La Linea, we connected with our friends, Spencer and Nana, on s/v Adverse Conditions, whom we met in Mahon, Menorca a few months ago. They were also planning to sail across the Atlantic to the Caribbean, but have since decided to ship their boat over and fly back. We hope to see them when we get over there.

Finally, on Sept. 19, we thought the timing was right to begin our 5 day voyage to the Canary Islands. Big seas and high winds were predicted the following week and we wanted to get there ahead of the weather. Even with the weather working in our favor, it's a challenge going through the Strait of Gibraltar. We had the tidal flow sucking the Atlantic Ocean into the Mediterranean Sea, and the wind at our backs trying to blow us out of there. It created hours of going through actually breaking waves as these two forces worked against each other.

On our second day underway to the Canaries, we lost all our wind and started motoring. The ocean was choppy and confused, but the wind was too light to sail by. Then, in the middle of the night, we heard and felt a big THUNK and the engine stopped. After checking everything we could think of, we determined that we probably had something wrapped around our propeller. Mike would have to dive under the boat. And THAT wasn't going to happen in the dark. We would have to wait until morning's light. We tried to heave-to, which is a sailing maneuver to keep you relatively in the same place when you are in open water. It's basically a heavy-weather maneuver when you want to ride out a storm as comfortably as possible. But we weren't in a storm. We were just getting thrown around in choppy water with a strong current. We did the best we could and focused on not going too far off course.

By morning, the waves were even bigger. It took Mike over an hour to get all his diving gear together and put on his wet suit. Our scuba tanks are stored under the swim step on the stern of the boat, which is our garage. Imagine that you are standing on the rear bumper of your car, while driving over very rough off-road conditions, and that you have to open the trunk while standing on the bumper. Now imagine that the trunk lid is very heavy and must be held up as you are bouncing over large boulders. Then you must unlock and retrieve a steel scuba tank and with one hand pass it around the trunk lid to a weak person who is on the roof of your car. That was our scene. It wasn't pretty.

Before Mike went into the turbulent water, we tethered him to the boat, and strapped a couple of our best boat knives to his leg. His scuba tank was leaking air, so he didn't know how long it would last. He had to work fast. He was probably down there 5 to 10 minutes, but it seemed like hours to me. It was one of the scariest moments in my life. The waves were causing the stern to lift up and then smack down with such force. It couldn't have been good being under the boat trying to work with a knife! The current had us moving at about 3 knots, and that didn't help.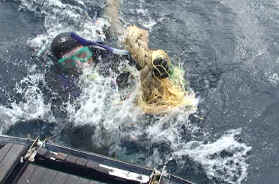 I was so relieved when Mike finally came up with a very large rope in his hand tailing about 9 feet long. Success! Unfortunately, he lost his best knife during the process. He briefly endured my need to take pictures, then started yelling at me to help him. I got all that on video, too. Cranky! He was exhausted and we still had the challenge of getting him back on board while we were moving at 3 knots and bouncing up and down! Thankfully, the engine started right up and we continued on our way to the Canary Islands. The delay turned our voyage into 6 days, and we got caught in the predicted 9 foot waves and 25+ knot winds.
The archipelago of Canary Islands are comprised of 7 main islands located off the coast of Africa and belong to Spain. The islands were created by volcanoes and some are still active. We skipped the tiny island of La Graciosa because we reached it during the night. We don't feel comfortable entering a harbor in the dark, especially since we don't have electronic charts of this area. So we just kept going until we reached Lanzarote in daylight. We were thrilled to finally get into the protected harbor on Lanzarote and snuggled into a nice berth in a new marina with modern floating docks and finger piers.
Our first priority was to arrange to haul-out for bottom paint. We were in desperate need as it had been over 2-1/2 years since we last painted it in Key West. We were pleased to learn that we could do the work ourselves, which helps save money. Mike wants me to be clear that "we" actually means "he". Lucy and I climbed the ladder and stayed onboard while Mike spent several days under Aquila applying coats of paint.
Since then, we have been exploring and enjoying the beauty of the Canary Islands. We rented a car for a week in Lanzarote. The National Park in Lanzarote is an active volcano where we got to ride camels. At one time camels were the main source of transportation for people and supplies on the island. Camels are perfectly suited to this environment. The island is barren and described as being similar to a lunar landscape. The tour of the volcano is only permitted by tour bus which took us on a white-knuckle ride on a narrow road with steep cliffs. I was certain that the wheels were hanging off the road on some of those hairpin curves. We ate lunch at a restaurant at the top that cooks over an open grill using only the heat of the volcano. Then we watched as they gave demonstrations of combustion and geysers using the volcano heat.
We took Lucy with us on the days when we were doing scenic driving and dining outdoors, and left her on board when we planned to visit historical sights that required admission. One day when she was with us, we came upon the Cuevas de los Verdes (Green Caves). We really wanted to take the tour, but no dogs allowed. We decided to leave her in the car with the windows partially down for ventilation, but not so much that anyone could get in. After the tour, we returned to the car and she wasn't there!! For a few heart-pounding moments, we were terrified. As I started to run around exclaiming "She's not there! She's not there!", Mike thought to look in the trunk. There she was, sitting there quietly waiting for us. She must have jumped to the back window of the car when we were walking away and fallen through the flimsy trunk cover. It was one of those economy cars with a hatchback that has a lightweight cover over the small trunk area. She was very excited and happy to see us. We were surprised that she didn't make a sound when we first opened the doors. I don't think we'll ever do that again!
Another drive on Lanzarote took us to Papagayo Beach. The waves crash and explode on the black lava coastline. (picture in Photo Album) It's so dramatic! I could watch that all day long.
The next island we went to was an overnight sail to Gran Canaria. The largest city and capital of the island is Las Palmas. It has the largest harbor and this is where the ARC (Atlantic Rally Crossing) departs from. The ARC takes place each year where over 200 boats sign up to go to the Caribbean in mass departing at the end of November. The participating boats start arriving in September and Las Palmas caters to them. We are not a part of the ARC, and as a result could not get into Las Palmas. We called many marinas and finally found an available berth in Puerto de Mogan on the south of the island. What a stroke of luck! It is probably the most charming port we've ever been to. I loved it there! It has little canals with foot bridges, flowers cascade off of every pretty little balcony. Many cute cafes, restaurants, boutiques, and shops line the port which also has a small white sand beach and boardwalk. The port is positioned at the base of beautiful cliffs. I could have stayed a long time, but they could only give us 8 days.
On Friday, Puerto de Mogan hosted a marketplace that completely filled the little port. Every street, parking lot, plaza, and even our dock were lined with vendors and artisans selling everything from wine, cheese, & produce, to clothes, jewelry and crafts. I love going to the markets and this one was really fun. Then we rented a car for the week and took daily excursions. One day was the dramatic coastline of the northwest island, the next day the beaches and sand dunes of the south. Another day we drove through the pine tree forests in the mountains of the interior, stopping at a roadside stand for fresh fruit smoothies. We attempted to follow all the tiny little roads that took us to quaint little towns filled with friendly people and delicious food! We drove through miles of winding roads with fantastic views in the mountains of Gran Canaria. Another couple of days took us through the historic districts of Las Palmas with its fascinating Museum of Columbus, cathedral, monuments and plazas. Our 8 days in Gran Canaria went by quickly.
I didn't think it could get any better ... until we sailed to Tenerife. We got a berth in the new San Miguel Marina which is part of a golf resort. It's kind of isolated in that it isn't in an actual town, and things are still under development. But it was new and nice with very friendly staff. We once again rented a car for a week to tour the island. This is our favorite island so far. Tenerife is the largest of the Canary Islands and offers the most diversity in its terrain. The scenery is so fantastic it takes your breath. El Teide is the highest point in all of Spain and is still an active volcano. We drove through the incredible landscape of El Teide National Park and took the cable car to the top of the volcano which is over 12,000 feet high. It's cold up there!
Everything on Tenerife seemed bigger, grander, more beautiful and more amazing than anywhere else. The cliffs of Los Gigantes shoot straight up out of the ocean to more than 2,000 feet. The dead-end one lane road with miles of hairpin turns through the mountains takes you to the charming town of Masca perched on rugged terrain in a ravine with views of the ocean through the tall mountains on either side. We visited fishing villages, went to the Sunday market in the capital city of Santa Cruz, drove to the little town of Icod which is home to a 1,000 year old dragon tree, toured the Casa del Vino, and walked through the historic center of La Laguna. We watched in awe as windsurfers challenged the elements in La Medano, a mecca for windsurfing. I just can't describe how beautiful this island is. I could have stayed here a lot longer.
We sailed to the small island of La Gomera to spend a few days with our American sailing friends, Mark and Kimberly on s/v Swanya, and Terry and Deb on s/v Wings. The six of us shared a happy hour, a delicious potluck dinner, and a hike together. Our marina reservation on the island of La Palma, as well as a forecast for upcoming weather, forced us to move on after only 2 days on La Gomera. We're hoping to stay in touch and possibly cross the Atlantic in the same time frame as our friends.
So ... now we are in La Palma. The marina is new and the facilities and staff are very nice. But there is a constant surge in the harbor. The movement is like being at a slightly rolly anchorage. It's a constant rocking that is not bad, but not something you like when you're paying for a berth! We are side tied on a floating dock with loose lines to allow for the motion, without jerking on the cleats. But every few minutes we get a pretty good surge that tests our dock lines. I'd better get used to this because we have paid for one month in advance. We rented a car for touring next week. This island is nicknamed the pretty island and also the green island. We just got here and it's raining today, so I think I understand the green part. I will tell you more about this island in my update at the end of the month. I plan to update the website right before we depart for our month-long Atlantic crossing.
Bye for now!
Click here to view the Photo Album for this update.
Next Letter Home