Bocas del Toro, Panama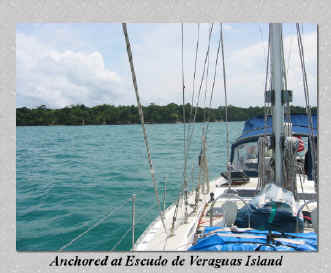 We departed Shelter Bay Marina in Colon at the beginning of the month. We took our time sailing to Bocas del Toro, and anchored at the densely wooded island of Escudo de Veraguas for a couple of days doing absolutely nothing. In retrospect, Mike thinks he should have gone down and cleaned the bottom of the boat while we were there in shallow, clear water. Here is it the end of the month and he hasn't cleaned it yet!
Then we sailed to Tobobe Creek and carefully maneuvered through the coral shoals into a pretty little anchorage. There is a little village here and I don't think they get many visitors because the ulu traffic to our boat was non-stop. They don't speak any English or Spanish, so there was a lot of gesturing and pointing as we all tried to communicate. A woman paddled over to sell us some sorry-looking fruit and a skinny plucked chicken. A man came over wanting fish hooks and was polite but disappointed that the hooks we gave him were so small. Children paddled over to see what we had to give them. One boy kept trying to sell us a shell he had painted. Then, the children just hung on the side of our boat obviously fascinated by us. We went about our business, but they just hung around anyway. I didn't want to be rude, but I wanted them to go away. It's weird having kids hanging on the side of our rail just watching us. And I was concerned that their canoes would bang the side of our hull (which they didn't). One man came over and appeared to be asking for fresh drinking water. We gestured for him to bring a jug and we would be happy to fill it for him from our fresh water tanks. He came back about 3 hours later with 2 jugs of spring water for us! He thought WE were asking for water. He had to trek high into the island to fetch it and lug it back to his canoe. So we paid him for his effort. A farmer came over to give us a gift of vegetables from his farm. He had a young daughter with him who we gave some crayons and a coloring book. That started it up again and canoes full of children surrounded us again. We only stayed one night at this anchorage.
We sailed to Isla Colon in Bocas del Toro and checked in to the Bocas Yacht Club and Marina. The marina holds about 100 boats, mostly absentee owners. There are about a dozen boats here with live-aboards, like us. We get together for a potluck each Sunday afternoon, and the yacht club serves BBQ ribs on Friday nights. We've gone on a few organized outings with several other cruisers which were interesting and fun. These tours are arranged with the local tourboats to go to various destinations.
Our first tour was to a cacao plantation called "Green Acres" on the mainland. They have an ocelot that is sort-of a pet. It's a wild animal that you can't really tame, but it roams freely and is unafraid of people. We were warned to wear long pants and Mike's glad he did because she really liked him. Click here to see one-minute video. The Americans who own the plantation have lived here for many years. They produce a small inventory of organic chocolate bars that they sell. There were about ten of us on this tour. We met Gary and his wife Gloria from s/v Bold Venture. He was a special agent who retired from the same bureau as Mike and has chosen a life of cruising. They had a good time comparing notes and sharing old work-related stories.
Our next tour was with John and Chichi on s/v Pachamama and Steve from Costa Rica. We went to Swan Cay, known as bird island, where we saw many exotic birds. Then to Bocas del Drago for lunch, and snorkeling at starfish beach, also known as blue lagoon. The water is crystal clear and dozens and dozens of very large starfish can be seen on the white sand. On our return trip to the marina, we stopped for drinks at the beautiful open air Punta Caracol Resort Restaurant which sits on stilts over the water. The Punta Caracol Resort has cabanas on the water which you can rent for $300 to $500 a night.
We took another tour this week with Susan and Tom from m/v Limerick and Cora and Allen from s/v Ute to Isla Bastimentos. After about an hour, the tourboat reached the island and entered the river to Quebrada de Sal (Salt Creek). We followed the river inland to the trail head for our jungle hike. Don't ask me why we did this again after our experience in the San Blas Islands. But we wanted to see the night monkeys and it sounded like a fun day. The rain from the previous night created a very muddy trail and lots of bugs. We sprayed ourselves with Deet and amazingly managed to avoid getting any bites. It was not a strenuous hike this time, but the mosquitos flying around our faces were irritating. We saw many interesting things that made it all worthwhile, including the night monkeys, red frogs, bats, exotic birds, a crocodile and many fascinating plants and trees. However, as soon as we got back to the tourboat, it started raining.... then it really started raining. As we left the mouth of the river and headed back out across the open water, the wind started blowing hard, the rain was cold, and visibility was reduced to almost nothing. We were in an open panga, soaking wet with the rain beating down on us, lightning, thunder, and white caps across the turbulent water. Our tourboat driver, Sebastian, turned around and we beached the panga under a tree on the side of the river until the storm eased enough for us to venture out again. It was still raining for our return trip and we were drenched from head to foot. Even so, we stopped at a restaurant on the other side of the island (eating is always a priority!). We enjoyed a fresh fish lunch with beers at the over-the-water, open air thatch-roofed restaurant, before getting back to the marina (and a hot shower for a change!). We had forgotten what it felt like to be cold.
We also did some exploring on our own. We took the bus on a one-hour ride through the interior of the island to Bocas del Drago beach on the other side. It was a beautiful drive through thickly forested hills, scattered with thatched-roof wooden houses, and pigs, chickens and goats on the side of the road. Last week, we took a 45-minute water taxi ride to the mainland. The water taxi goes about 30 mph across the sea, then zig-zags up the old banana canals still doing about 15 or 20 mph. It was quite exciting. From there, we took a mini-bus on a dirt road, with lots of potholes, through the banana plantations going to the town of Changuinola. We wanted to renew our travelers visas, but they said we were too early and would have to come back next week. Looks like Sean, Keni and Kailyn will get to enjoy this outing with us!
Be sure to check out the photo album for this month! (click here for photo album)