California - September 2007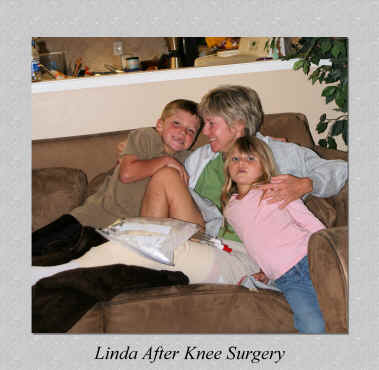 After returning from our road trip with the grandkids, (in our last update), it was time for us to get all of our physical check-ups out of the way. Doctor, dentist, dermatologist, and for me an appointment for an MRI on my knee. It's been hurting now and then ever since we took that killer hike in Dominica to the boiling lake. Sure enough, a torn meniscus in the left knee. After arthroscopic surgery and a couple of weeks of physical therapy .. I'm almost good as new. I had lots of nurses taking care of me (pictured). Ironically, Lance tore his meniscus and had surgery two weeks before me! So we could commiserate and compare notes on our physical therapy.
We spent the remainder of our summer trying to get together with as many of our old friends as possible. We enjoyed seeing Ray and his kids in San Diego; Joe and Patricia in Newport Beach; lunch with Steve in Long Beach; dinner with Russ in Malibu; lunch with Connie and Lew at Ventura Harbor; lunch with Allen and Janet in Manhattan Beach; Ray's retirement luncheon in Glendale; lunch with Barry and Babbie in Pasadena; visit with Jim and Michelle in Santa Clarita; and dinner with Dave and Peg in Malibu. How wonderful it was to see all of you! Mike was able to catch up with many of his good friends from work. He really enjoyed meeting for lunch with Jeff and his whole group, breakfast with Dean and Ken, lunch with Honda, lunch with Rick, Sal, Jim and Don. He also got to go shooting a couple of times with buddies Ken, Jeff, Dave and Dean. We enjoyed social events, dinners and parties with our family (Hi Diane and Nana!), extended families, and friends of family (Hi Sally and Doug!).
We enjoyed watching the kids play sports and attended as many games and practices as we could. Blake, Garrett and Paige had soccer games on Saturdays, Blake and Garrett had baseball games on Sundays, Kailyn had karate on Monday nights, and somebody had a practice every night of the week. Kimberly coaches an adult co-ed softball team that had weekly games and went into the playoffs! We attended those games and parties, too. (Go Topsy Turvy Team!) Our calendar was jam packed!
Each year we take our kids out to celebrate our wedding anniversaries. This year we went to Castaways Restaurant for a Sunday champagne brunch. It is a beautiful venue overlooking the San Fernando Valley. It was a warm sunny day and the food was delicious. This year is my and Mike's 16th wedding anniversary, Lance and Kimberly's 12th, and Sean and Keni's 10th. This was also the summer that Kimberly turned 40! My baby! Where has the time gone??? Kimberly's friends threw her a 40th birthday bash in July while we were on our road trip with the grandkids. Then they went to Las Vegas for a fun weekend. Sean and Keni took an anniversary vacation to the Dominican Republic. Our kids lead full, rich lives and they are surrounded with love from family and friends. We feel very fortunate to have such great kids and grandkids.
On October 9, after a wonderful 3 months at home, everyone loaded into the Suburban to take us to the airport for our return to Trinidad. This is the hardest part because the grandkids get so emotional. In fact, Blake starts about a week before we leave. I'll find him with tears in his eyes, and I'll ask what's wrong. He'll tell me it's because we're leaving in 7 days, or 6, or 5. So I have to get him focused on counting the weeks until we see each other in St. Martin, and try to make him feel as positive as I can.
Trinidad - October 2007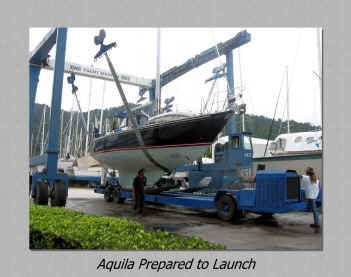 Everything looked good when we got back to Peake's Yacht Services in Trinidad. We spent the first night in the hotel, then moved on the boat. We lived "on-the-hard" for 5 days, getting Aquila ready to launch. It felt good to be back in our home, with all our stuff, but it was a bit inconvenient. We didn't have refrigeration (because we are keel cooled), we couldn't use the heads, and we didn't have water because we needed to clean and flush the tanks before use. So we re-connected with our cruising friends (s/v Sojourn, s/v Temptation, s/v Aurora, and others), had potluck parties, and ate out a lot.
When we launched on October 15, it was a little bit scary. The winds were high, squalls were blowing throughout the day, and the bay was churned up and choppy. All we had to do was motor over to Crews Inn Marina where we had a slip reserved for 12 days, but I started feeling like I didn't know what to do. It all came back to me pretty quickly, though. We got tied up at our slip and gave Aquila a good fresh water wash. Or maybe I'm just thinking about what we had planned to do. Maybe what we actually did was pour a drink, kick back and enjoy being afloat.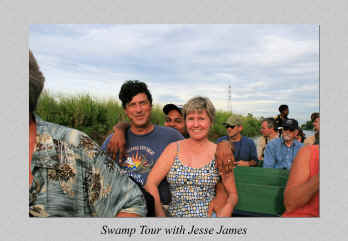 Jesse James is the local maxi-taxi who organizes tours, shopping trips, and airport transportation. After getting our freezer repaired, we made several Price Smart trips (warehouse shopping similar to CostCo) with Jesse to re-provision the boat. We also joined a group of cruising friends to attend the Steel Pan Jazz Festival. The festival was scheduled for the entire week featuring different steel pan bands. We attended the Friday night event at the open air amphitheatre and saw four excellent, but very different groups. It was a lot of fun. Jesse James also organized our trip to the Asa Wright Nature Center and Caroni Swamp. See the pictures of our trip in this update's photo album.
Crews Inn Marina has very nice facilities. The pool is inviting, the showers are clean, and the laundry room is clean with machines that work. We tried to take advantage of these opportunities because we won't see anything like it for a long time. But in addition to staying clean and taking tours, we had some projects to complete before setting sail again! As I mentioned above, we got our freezer repaired. Nau-t-kol replaced the internal filters on our lines, vacuumed the moisture out and then recharged the system. Now it works fine! Mike's happy that he has ice for his drinks again! We also hired a local contractor to do some varnishing. We put the genoa back on the furler, and washed/dried/stowed the boat cover tarps. Mike fixed things, lubed things and polished things. I cleaned things and put away things. Mike installed our new Pactor modem, and I loaded new software on our computer.
On Saturday morning, Oct. 27, we checked out of Crews Inn Marina and officially checked out of Trinidad. But we only motored out of Chaguaramas Bay and around the corner to Scotland Anchorage. Tom and Rose on s/v Sojourn were anchored there. They joined us that evening and taught us how to play "Oh Hell". It's a fun card game. At 4 a.m., we got up and set sail for Grenada. The wind was on the beam at 15-20 knots all day, so we made good time even though the seas were confused with a 6-8 ft swell. We must have had a current working with us as well because we were averaging 8-9 knots for much of the day, which is faster than we normally sail. We were grateful that the sky stayed clear all day. We were expecting some squalls, but that didn't happen. We made the 80 mile trip in 11 hours.
Grenada - Oct. 28 to today
So now we're anchored outside the lagoon, at St. George's, Grenada. We walked into town yesterday to find an ATM for some local currency (EC's here), then sat in the Grenada Yacht Club with our computer and checked email. The weather was kind of squally today, so we just stayed on the boat all day. Mike read a book, I worked on the computer putting together this update, and we played backgammon whenever we needed a break from all this hard work. We'll probably head to Carriacou day after tomorrow (Nov. 2).
Until next month .. fair winds and calm seas! (click here to see this month's Photo Album)