The beginning of July found us in Newport, Rhode Island for a couple of days. A mooring ball cost $45 a night and we thought that was the most ridiculous amount (until we got to Nantucket and found out how high the price of a mooring ball could go). Newport Harbor was completely full with hundreds of boats moored from shore to shore. We enjoyed walking around Newport and eating the food, but we were eager to get to Bristol where we were meeting Mark and Darlene Frederick.
We actually sailed all the way to Bristol, Rhode Island, with only the genoa, no mainsail. Remember, our mainsail clue block snapped last month. New sails are on order. A nice breeze on the beam kept us moving at close to 7 knots most of the time. What a glorious difference from all the motoring we were doing in June.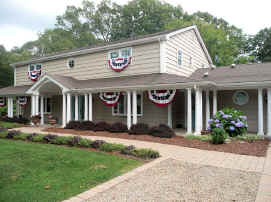 We picked up a mooring ball in Bristol Harbor for a week, but we actually stayed at Mark and Darlene's beautiful home in their comfortable guest room. They live so close to the water, that it was easy to go down to the boat each day and run the generator to charge the batteries. Oh my gosh, Bristol is sooo pretty! It is also a very patriotic city. Being there for the 4th of July was amazing (as Darlene had promised it would be). Bristol holds the record for having the oldest consecutive Independence Day Parade in the country. Drill teams and bands come from all over the country. The entire city is decorated in red, white and blue. Events are scheduled throughout the week and everyone gets into it. It was so fun! I loved spending time with Darlene. She is the only thing I miss about not working anymore (except for Russ, I miss him, too).
Darlene had a full house as her daughter, brother, sister-in-law, and niece also came for the weekend. Lucy got to play with 2 other dogs and she was in heaven. Darlene's daughter, Kristin, walked all the dogs daily and taught Lucy how to walk nicely on a lease. But it didn't stick. She still pulls and darts back and forth when we walk her. We've given up and just accept her bad leash manners. She's so cute and sweet that we just accept that she's got to have some faults! Right?
Our new sails arrived and we got them installed. "Installed" sounds funny. I wonder what the right word is? Anyway, they are beautiful .. white, firm, nice shape. The old sails were getting saggy and tired looking. I can relate.
Our next stop was Swansea, Massachusetts where our friend Sue Burton has a vacation home on the water.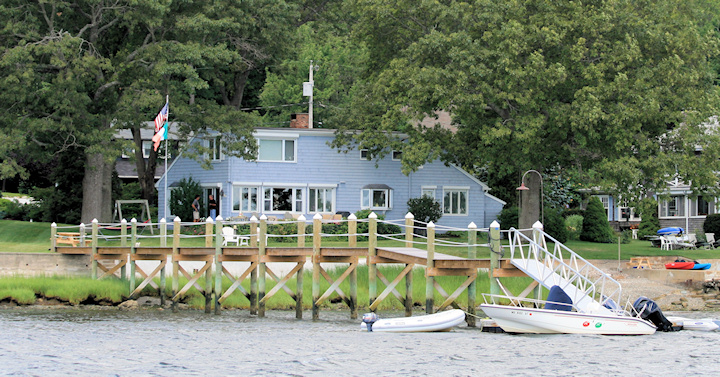 With the help of her house co-owner, Michael O'Riordan, we got tied to their mooring ball, took our dinghy to their private dock, and enjoyed drinks and sandwiches on the patio with Michael. We were made to feel most welcome as over the next few days Michael invited us to a neighborhood cookout, and introduced us to his friends and family.
We rented a car for the weekend and drove to Boston (Quincy, actually) to visit Mike's friends and relatives. We spent an afternoon with his best friend from high school, Jimmy Wilson and his wife, Cindy. Cindy has been battling cancer for over 5 years and is the most positive, courageous person you could ever meet. Surgeries and chemo are an on-going part of her life as new spots are discovered all too frequently. Of course, Mike had to have fried clam strips at the Clam Shack, one of his old haunts, and a visit with his beloved Auntie Cleta, Auntie Julia and cousins Gary and Charlie.
While waiting for Sue and her girlfriends (Julia and Yvonne) to arrive later in the week, Mike and I sanded and varnished our outside teak rails and fiddles. There is more varnishing to do, but that will wait until we get back to Virginia in late August.
That's Sue's boat (a Boston Whaler) at the end of the dock in the picture above. Sue took us out for a rousing day of flying across the water full throttle all the way to Jamestown, R.I. At one point, we hit a series of wakes that sent Julia and I airborne (we were at the bow). In Sue's defense, Mike had encouraged her to speed across the wakes, thinking that we would ride across the top like we do in our dinghy. Didn't happen that way! After that, Julia took her bruises to the stern of the boat where the ride was less bumpy. We circled Newport and returned to Swansea via the Pawtucket River, stopping for lunch at a waterfront seafood restaurant (can't remember the name!), and covering about 30 miles in our loop. Our day ended with drinks and snacks aboard Aquila. What a fun day!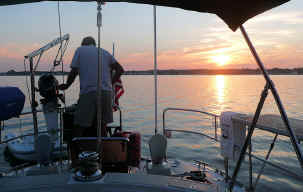 At midnight, my sister Valarie and my aunt Nola arrived at Providence airport. We all got a few hours of sleep and got underway at sun up heading to Martha's Vineyard. After leaving the river and getting out into the Atlantic Ocean, it was a rough 12-hour voyage and my sister got seasick. What a way to start her vacation! But she is a real sport and not one word of complaint came out of her. In fact, in retrospect, she said she valued the experience as it was a part of the whole package! Now that's the spirit!
We anchored for a couple of nights in Vineyard Haven on Martha's Vineyard. Oh, the hydrangeas! Everywhere we looked, so much color. Beautiful! Then we sailed over to Edgartown on Martha's Vineyard for a couple of nights. We ate, and shopped, and walked around the lovely flowered streets. A very pretty island. It was dog friendly, in that we could take Lucy on the bus, but they wouldn't allow her on the patio restaurants. Mike took Lucy back to the boat so we could have lunch at the waterfront Seafood Shanty.
It took about 4 hours to sail across to Cape Cod. At first we anchored in Hyannis, but it was a long dinghy ride to go to town. It was also windy and the water was choppy, so we decided to get a slip at the Bismore Park Marina in Hyannis for a couple of nights. It was a perfect location! We were right near all the action. We were one block from Main Street, with a pirate ship on one side and big fishing boats on the other, Spanky's Clam Shack at the end of the dock, green grass and colorful artist's cabanas off our bow. We were right on the boardwalk, so we had lots of admirers. Many people stopped to take their picture in front of our boat. Nola was our ambassador of goodwill, greeting people and answering all their questions. It was so cute.
One day we rented a car and drove to Provincetown for lunch. Wild. I don't know what we expected, but it probably wasn't that. Crazy place. Definitely good for people-watching. Lots of people! We had lunch at a patio cafe, walked around just a little bit more, then got the heck out of there.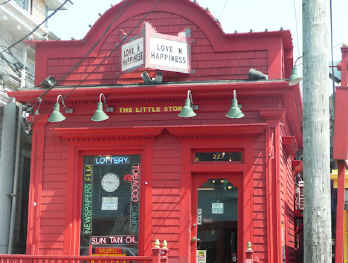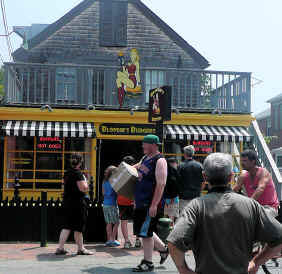 The beach at Chatham Lighthouse was recommended to us to see seals on the beach. We stopped there and walked along the beach, but we didn't see any seals. Still, it was fun to take off our shoes and walk in the sand! We stopped at Marion's Pie Shop and bought dessert. Nola and Valarie have a sweet tooth that rivals Mike's if you can believe that. Among the three of them, the boat was well stocked with sweets! Pastries, fudge, saltwater taffy, gourmet cupcakes, raspberry squares, berry pie, AND we had to go out for ice cream every day! (I'm on a diet now that they are gone. Gotta get rid of this muffin-top. Jeez.)

Valarie had to get back to work, but Nola stayed with us a few more days and sailed to Nantucket with us. We had enough wind and we were enjoying a good sail, when dark clouds appeared on the horizon. They got closer and darker and then WHAM, we got hit with 40+ winds and sideways rain. The boat was healing over and bouncing around and we got totally soaked reefing the sails. It was gone within 20 minutes and we mopped up the water, reset the sails and continued on to Nantucket. Another exciting experience for Nola!

After a couple of days on the lovely Nantucket island, we sailed back to Hyannis, Cape Cod, where Nola caught the bus to Providence airport and returned to Texas. We enjoyed their visit very much and look forward to having Valarie and Nola visit us next year in the Bahamas. Nola's already got her bag packed!
Mike and Lucy and I returned to Martha's Vineyard for a couple more days. Took the bus to Oak Bluffs and liked it alot! We were told that we should skip Oak Bluffs, but I'm glad we didn't. It was very pretty and our weather was perfect. We had lunch at the Sand Bar & Grille. I set the camera on a park bench with the timer to get a picture of the 3 of us, but I cut our heads off. However, Lucy was so cute, I kept this picture anyway.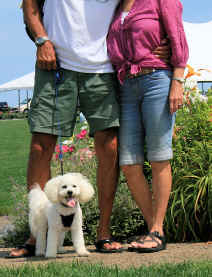 If you've read my letter this far ... I know it's a long one ... then you get to be one of the first to know that we plan to sell Aquila. We've been living aboard for 6 1/2 years and have been to a lot of places that we wanted to see. I don't have another ocean crossing in me. So, if we continue sailing, we will just be repeating the places that we have already been. We're both feeling ready to start another adventure. We will be listing the boat soon, but it may take some time to find a buyer. We're pretty sure that we will be heading back to the Caribbean in November. But we are hoping to sell her within the next year. We are savoring every moment now that these days are numbered, but we are also excited about what we'll be doing in our next chapter of retirement. Stay tuned! Love to all.
Click here to view the Photo Album for July.
NEXT Letter Home