We spent the month of June exploring the Golfo de Papagayo in northern Costa Rica. We sailed (or motored) back and forth every few days between the anchorages along the coast here. We met several new cruising friends (m/v Enterprise, s/v Tide N Knots, s/v Vision, s/v Guava Jelly, s/v Scholarship, s/v Aventura) and reconnected with friends from previous locations (m/v Tesla, s/v Creola, s/v Ticket to Ride, s/v Hoofbeats). However, our travels and activities usually coordinated with our good friends on s/v Sukha and s/v Dreamweaver.
When anchored at Playa Coco, we can usually be found at the Coco Palms Hotel enjoying the pool or checking email. The town of Coco has the grocery store, bank, internet, bakery, shops, bus stop, etc. There are no docks, marinas, or piers at any of the anchorages in this area, so beach landings with the dinghy are required. If the shore has breaking waves, we can plan on getting wet. Computers and cameras go into dry bags. Just before we reach the beach, Mike lowers our rear dinghy wheels. Then we motor through the surf (it's usually not very high) until our wheels hit bottom. Then everyone jumps into the water (about knee deep), grabs a line or handle on the dinghy, and starts dragging it up on the beach as fast as possible before the next wave hits. Even if you can get it out before a wave comes, you'll still get wet from all the splashing feet. When Linda and Mike are alone, he pulls it up by himself allowing Linda to stay in the dinghy until the water is only ankle deep. At that point, the dinghy gets too heavy and the wheels dig into the sand, so she has to get out. But she gets to stay dry. (Isn't he sweet?) When we have others in the dinghy with us, Linda can't be a princess like that. We've found that most of the cruising couples that we've met share equally in the physical chores that are a part of this lifestyle. Some of the women we've met take on more than the men! And while Linda does a lot of the boat chores, thankfully Mike doesn't mind doing all the heavy work.
While we were in Coco, Linda decided to get a haircut. She thought that growing her hair long enough for a ponytail would make it easy to maintain, but that was wrong. It was just hot and sweaty. The girl at the little salon upstairs over the grocery store didn't speak English, so Linda just pointed at a picture to explain what she wanted. She sat her in a chair, wrapped her with a cape, squirted her hair with a water bottle, and cut off her ponytail in one chop. (no shampoo!?) She then chatted in Spanish with a friend, with telephone cradled on her shoulder, while she chopped off chunks of hair! When she was done, she added an amazing amount of mousse to Linda's already dirty hair, and then dried it. Amazingly, the end result was pretty cute. And all for $6. At the end of the month, Linda returned for a trim. The result wasn't as good, even though she had asked for the same thing (lo mismo). Oh well, it's only hair.
This is the rainy season in Costa Rica (they call it the green season). We have experienced several of the notorious Chubascos. Heavy, heavy rain, wind, lightning and thunder. Look at our June photo album to see a brief video of that experience. When it's not raining, it is hot and humid. We love the sunny clear days, and they are great for snorkeling, but you can't take too much of it. We always put up our canvas sun shade over the bimini, and spend as much time out of the sun as we can. So sometimes the rain is a welcome relief. On those days, we pretty much stay on Aquila and Mike reads and Linda plays on the computer. On several occasions the rain surprised us while we were in town, and we got completely soaked returning to the boat. You just can't imagine the torrential downpour and the wind. It actually hurts when its hitting you. It's crazy to be out in it! I felt like the on-the-scene newscaster you see on TV standing in the path of the oncoming hurricane. Only difference is that they are wearing heavy raingear, and we're in wet shorts and teeshirts.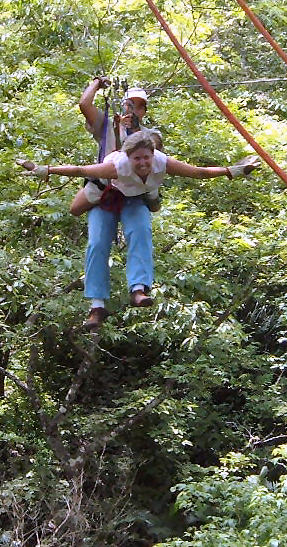 One of the highlights this month was our zipline canopy tour of the rainforest. We rented a 4-wheel drive vehicle to take a group of us into the rainforest via a bumpy dirt road crossing a couple of creeks along the way to the Canopy Tour location. The tour consists of strapping you into a harness and hooking you to a series of cables that run through the tree tops, stopping at platforms to connect to the next cable. Our tour had 11 cables, some as high as 100 feet off the ground. Linda even did some acrobatics with one of the cable tourguides. Here she is doing the "Superman" pose. It looks a bit kinky, but it was a thrilling experience.
We finally got to see the Costa Rican Morpho blue butterfly in the butterfly garden. The blue butterfly is on Linda's list of things to see and photograph in Costa Rica. The list includes the howler monkey, the white-faced capuchin monkey, leatherback turtle, green iguana, basilisk lizard, toucan, sloth and anteater. On another inland excursion we drove off-road, then hiked down to a beautiful waterfall. A Howler monkey attempted to scare us away by grunting at us and when Mike grunted back at him, the monkey launched a butt nugget at him.
In Playa Panama, there is no town, just a few hotels and a cruisers hangout at Restaurant Congrejo. Friday nights they show movies, but here's a tip .. don't try to watch The Da Vinci Code after drinking 3 margaritas.
Bahia Huevos is a secluded, undeveloped anchorage. Here we enjoy snorkelling and simple quiet days lounging on the boat, or getting together with Sukha or Dreamweaver for drinks or dinner aboard someone's boat. On Sunday, June 25, we were thrilled to see m/v Tesla arrive in Bahia Huevos, since we had planned to continue our journey southbound the very next day. We're glad we got a chance to visit with Fran, Greta and their sons Fran and Patrick again, and to meet their daughters who have joined them for 3 weeks. They will be heading to the Galapagos Islands soon while we are heading to the Panama Canal. We also said our goodbyes to Judith and Rick (s/v Dreamweaver). They are staying here awhile longer and will very slowly work their way to Ecuador, then to their home in New Zealand. We will stay in touch with both vessels and hope to reconnect someday somewhere.
The next day, we checked out with the Port Captain in Coco (after being here for 6 weeks) and buddy-boated with Anton (s/v Sukha) to Bahia Potrero for the night. We grilled steaks and baked potatoes on Aquila, drank wine, listened to music, and talked long into the night. We've been sailing with Sukha since we met in Acapulco in April. Anton would be leaving us the next day to sail 250 miles straight through to Golfito, Costa Rica, where he will leave Sukha in a marina and fly home for a month. We hope to reconnect with Anton in a couple of months in the Caribbean.
We then spent two days in Bahia Tamarindo on the Peninsula de Nicoya. This is a laid-back surfing town with lots of little shops and restaurants. I would have loved to take our dinghy into the estuary here, but the surf was too high to get through to the entrance. So we moved on to our present location, Quepos, in central Costa Rica. It took 20 hours to get here and we motored all night through a terrific storm. We had massive thunder and lightning and buckets of rain. Large swells kept us rocking dramatically from side to side, so sleep was not an option. Fortunately, there wasn't much wind and the ocean was not choppy, so I can be thankful for that. During our stay here in Quepos we look forward to exploring beautiful Manuel Antonio National Park.
In a couple of days, we will continue heading south to the Panama Canal, stopping along the way to anchor, rest, provision and sightsee. We're eager to get through the Panama Canal and over to the San Blas Islands where Kimberly, Lance and the kids are coming to visit us for 2 weeks in August. (See the photo album for June)