We have absolutely loved getting together with friends as we cruise up the East Coast. But the actual cruising part hasn't been that great. We seem to be motoring constantly. No good sailing days at all! And while I'm complaining, I might as well say that there are a lot of bugs here, too. Millions of knats, mosquitos, bees and flies that bite! The good part is, in addition to seeing friends, we are enjoying the US history which is prevalent in these states. We toured historic Williamsburg and Yorktown, and have visited monuments and historical sites along our way. Fabulous mansions line the coast of Long Island, so it's fun to anchor just off shore of these beautiful estates.

The clue block on our mainsail broke. We decided this would be a good time to buy new sails for Aquila, now that we have over 28,000 miles on them and 7 years of sun. Our new mainsail and genoa will be shipped to Rhode Island where we will be in early July. Our wallet just said 'ouch!'

To recap our last two months: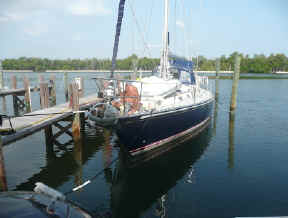 Florida - We berthed in Hollywood, FL in a slip behind a house. It worked out to be a great bargain (less than $20/day) and so much cheaper than staying in a marina. We rented a car for a week and got a lot of things on our list taken care of. One of the major things was to get our Winslow life raft recertified, which is required every 3 years. It cost $1200. This is one of those expenses that feels like a big waste, but you sure don't want to find out! We spent a night with Brad and Ingrid which was very nice. It was fun to get caught up with them on the news in all of our lives.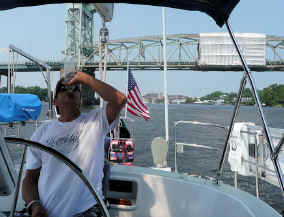 North Carolina - We wound our way up the Cape Fear River to Wilmington, NC. Bill and Monica Queen drove down to spend the weekend with us aboard Aquila. It was great to see them! (We hope you guys come out to visit us again soon.) We had to time our arrival and departure around the bridge openings. One of the bridges was fixed and we cleared it with just inches to spare. Very stressful! Here is Mike drinking water after clearing the bridge (major cotton mouth!) After dealing with the shallows, tides and currents in the river, we definitely decided that cruising the ICW is not an option for us. We prefer the big blue sea.
Virginia - We entered the Chesapeake Bay and found a quaint little spot in York River Yacht Haven. Their location is a little bit remote, so they offered a free car for going to the grocery store, etc. They had a nice restaurant, chandlery, swimming pool and shower/laundry facilities. Plus they drove us to Yorkville so we could go touring and picked us up in the afternoon. Nice service! We met another Hylas owner who is permanently moored there and he offered to let us borrow his extra mainsail until our new sails arrived. But it didn't fit into our mast track, so we are still without a mainsail for another month. Next we went to Deltaville Marina to check out where we will be "on the hard" in Sept and Oct. It's a very skinny, shallow channel into the marina and we bumped the bottom mud on our way in. So glad we didn't get stuck. Chesapeake mud is like glue! Anyway, looks like everything should work out just fine when we come back end of August.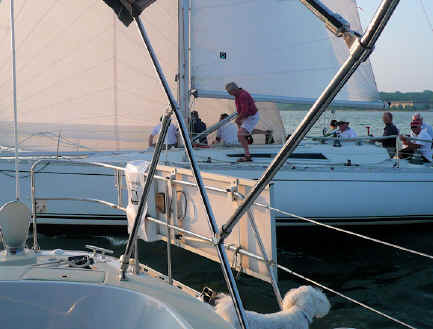 Maryland - When we arrived at St. Michael's, they were having a gnat invasion which lasted a couple of days. It was weird, they were thick all over the boat! We couldn't open the screens or go out at all! After the invasion abated, we enjoyed drinks and snacks at the dockside bar and made some new friends. They were from California on vacation chartering a sailboat. St. Michael's is actually a very charming place. We loved walking through the town with all of its unique shops. Next, we went to Annapolis and anchored off the US Naval Academy for a few days. We loved walking around the town that claims to be the sailing capital of the nation. Being anchored in the bay gave us a great view of the yacht races in the evenings. Felt like we were right in the middle of them. In this picture, they are zipping by our stern just a little too close for comfort!
New Jersey - Couldn't wait to get to New Jersey to see my friend Barbara Hosie. We worked together in the early 1980's, became good friends, then she married John, relocated to New Jersey, and raised 3 sons. We've stayed in touch all these years and it was wonderful to be able to spend time together again. She introduced us to her friend Joanne, a retired Captain from the Perth Amboy Police Dept and member of the Perth Amboy Yacht Club. We all really clicked and the next few days were fun, fun, fun. Joanne arranged for us to crew on one of the yacht club boats in the weekly race. (Thank you, Ajax, for having us as part of your crew on Sea Feather!) Joanne may join us for part of our southbound trip back to Deltaville in August. Pictured here at the yacht club are Joanne, Mike, Linda, Barbara and Paula. Hope to see you all again real soon.
New York - We arrived in New York harbor and sailed by the Statue of Liberty. What am I saying, sailed? We motored, motored, motored! I'm so sick of motoring! If we could just get a little wind to at least use our genoa! OK, Linda, calm down. Breathe. OK, I'm fine. Where was I? Oh yeah, motoring into New York. We spent only one night at a rusty rickety dock in Liberty Harbor which was overpriced. Then motored to Long Island where we anchored (for free) in the beautiful Oyster Bay. Timing our trip was critical because we had to go through Hells Gate which is known for strong currents and eddys. We timed the current in our favor and did 10 knots through Hells Gate. From Oyster Bay we could catch the train into New York City, so we did that for a couple of days. We did much of the necessary touring, such as visiting Ground Zero, going to the top of the Empire State Building, walking through Central Park, Madison Square Gardens, Times Square, China Town, eating lunch in Little Italy, riding the subways and the bus, etc. We enjoyed it all, but decided that we are not "city" people (no surprise there). Each day, we were so happy to get back to our home in it's beautiful, serene setting. We are now anchored in Port Jefferson on Long Island waiting for the rain to clear. In a few days we will continue on up to Connecticut and Rhode Island. We're meeting our very close friends Mark and Darlene in Bristol RI to celebrate the 4th of July week. We can't wait!!